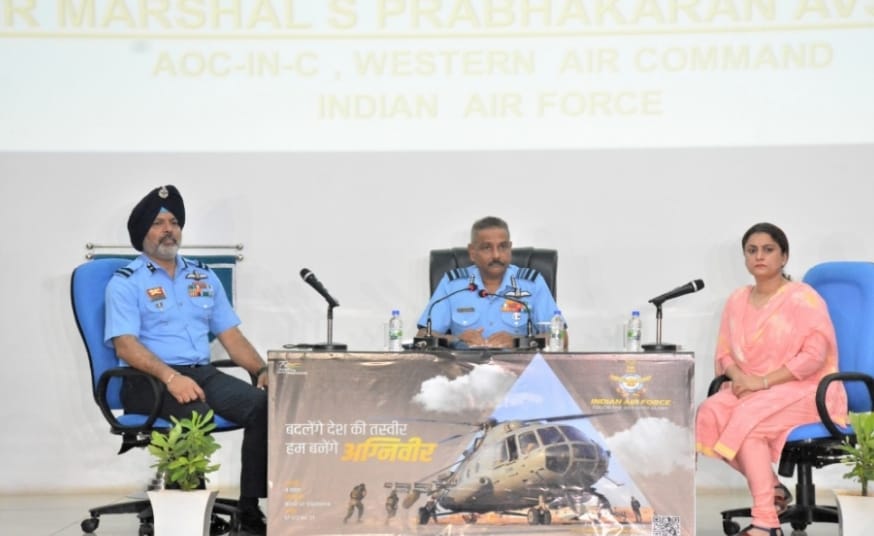 Jammu, Jun 15: Air Officer Commanding-in-Chief, Western Command, Air Marshal Sreekumar Prabhakaran on Wednesday said it is premature to say whether the scheme will stop radicalisation of young people but he was sure that the youth who would join military would leave as Indian than a radical
"I am quite sure that if a youngster (from the union territory) joins the military under the scheme and stays with us for four years, he will leave as a different person and probably more of an Indian than a radical," he said while speaking to reporters at Air Force Station Jammu.
He said that he was quite sure that if a youngster who has got brainwashed (into militancy), joins the services under the scheme and stays with the forces for four years, the youth will be a different person and probably more of an Indian than a radical.
Responding to a question on criticism for the scheme from different quarters, Air Marshal Prabhakaran said everybody has the right comment.
"When there is some change, there is always going to be some hiccups. The Agnipath scheme has not come out of the blue but there was a lot of discussion at the senior officers-level from the air force, navy and the army for about two years. The government supported the idea," he said.
Air Marshal Sreekumar Prabhakaran, Air Officer Commander-in-Chief, Western Air Command further maintained  that the 'Agnipath' scheme is a transformative reform in the armed forces recruitment process which will not only provide a youthful profiling of the Armed forces but also provide a platform for the youth to don the military uniform and become confident and disciplined citizens.
"The Agniveers will be imparted military skills and experience that will instill discipline, leadership qualities and patriotism among the Agniveers apart from military skills and experience," he said.
Air Marshal Prabhakaran said that this scheme will bring about a transformational shift towards a more tech savvy armed force in the country and will provide an opportunity to the youth tuned with the contemporary technological trends.
The nation will be benefited by the infusion of highly inspired Agniveers with deeper understanding of self-discipline, diligence, adequately skilled and will be able to contribute in other sectors, he added.
Air Marshal informed that the enrolment for Agniveers will be based on 'All India All Class' basis and the eligible age will be from 17.5 to 21 years.
While addressing the media, Air Marshal said that the Agniveers after the completion of their four years of service in military will be infused into the civil society where they can contribute immensely towards the nation building process. He further said that the Agniveers, on completion of their four-year tenure will be mature and self-disciplined with the realisation to excel professionally and personally.
The policy, which comes into immediate effect, will hereafter govern the enrolment for the three services. 46000 Agniveers will be recruited this year.kno