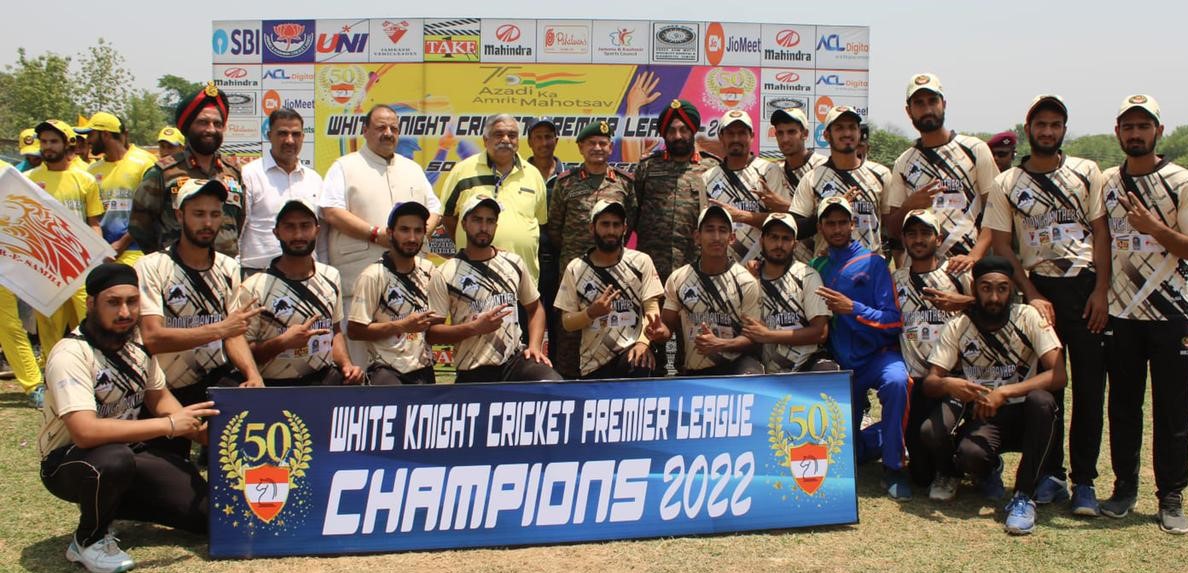 Jammu, Jun 14: Northern Army Commander Lieutenant General Upendra Dwidevi on Tuesday said that Army in collaboration with and Jammu Kashmir Sports Council will organize more sports events to channelize energy of youth in a positive way.
Speaking during the final match of White Knight Premier League tournament at Garota, Cricket Ground in Akhnoor, Lt Gen Upendra Dwidevi praised the amazing display of sporting talent by the youth during the tournament and said that Army will provide more opportunities to the youth to fulfill their aspirations and keep them away from social evils.
Lt Gen Dwidevi said that many prominent Cricketers have emerged from the region and participated in National level, adding, "Indian Army in close coordination with J&K Sports Council, J&K Cricket Association and civil administration will continue to organize such events to provide opportunities to the youth to fulfill their aspirations," the General Officer said.
The General-Officer-Commanding, White Knight Corps, (16 Corps) Lieutenant General Manjinder Singh said that sports is the best medium to keep our youth away from radicalisation.
"Radicalisation targets our youth only when they are idle but Indian Army is keeping them engaged in sports and other activities to channelise their energies positively," Lt Gen Singh told reporters on the sidelines of closing ceremony of White Knight Premier League tournament.
The Army officer said, "both Army and awaam (masses) must take part to ensure that no radicalisation takes place and sports is the best medium to keep check on this."
In a message to youth, the GOC said, "youth should work hard, exploit their talent and live a good life."
Sports is always motivational for youth and right from schools days, every child wants to play sports if an enabling environment is provided, adding he said, "Army is creating that atmosphere for larger participation of our youth."
Earlier, White Knight Corps of the Indian Army conducted a grand T-20 Cricket Tournament at Country Cricket Stadium, Gharota, Akhnoor (J&K).
The final of this tournament was played between the teams, Sher-E-Samba and Poonch Panthers at Country Cricket Stadium, Gharota, Akhnoor (J&K).
The team Poonch Panthers put up a stellar performance to clinch the White Knight Cricket Premier league Championship title.
Kumel was declared the Man of the match and Surabh Manhas from Shere-e-Samba was crowned as the Man of the Series.
Umar Bhat was awarded with the Orange Cap for his excellent performance in Batting and Mr. Kumel was honoured with the purple Cap for bagging the most wickets in the Series.
The award winning teams and players were felicitated during an impressive presentation ceremony by Lt Gen Upendra Dwidevi, GOC-in-C, Northern Command, Lt Gen Manjinder Singh, GOC White Knight Corps and Brig Anil Gupta (Retd) Chairman, J&K Cricket Association and prominent civil dignitaries in presence of a huge gathering of locals.
The tournament served as a platform to showcase the cricketing talent of the youth of the J&K and preparing them for a sporting career at the State/ National level.