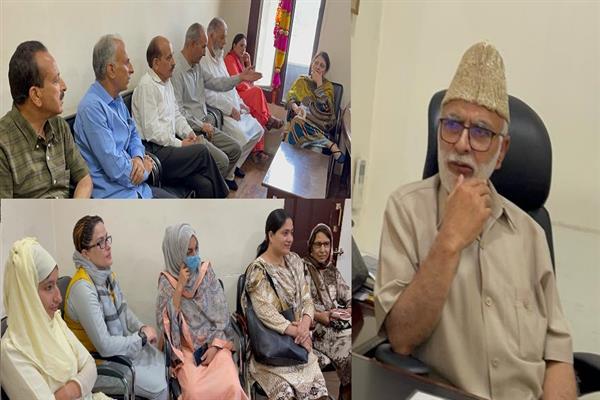 Srinagar June: National Conference (NC) on Monday held the incumbent government doubly responsible for plunging J&K into a state marked by greater uncertainty and deteriorating security situation.
This was said by party general secretary Ali Mohammad Sagar, while interacting with the party functionaries in a meeting at the party headquarters Nawa-e-Subha, Srinagar. Among others Party's Women's wing President Shameema Firdous, District President Srinagar Peer Afaq Ahmed, Provincial President Women's wing Er. Sabiya Qadri, Qaisar Jalali, Dr Syed and GN Bhat Tailbali were also present in the meeting.
During the breadth of the meeting the functionaries discussed ongoing political activities and unemployment, soaring inflation, crumbling security situation and widespread development deficit.
Interacting with the functionaries, Sagar said that it was expected that the incumbent administration will act cautiously in its dealings in Jammu and Kashmir. "That didn't happen. The unrelated battery of air dropped officers in J&K have failed to handle the local issues of governance," he said.
Sagar said that only NC has the credibility and capability to provide bulwark against forces determined to vitiate the atmosphere of Jammu and Kashmir.
The party, Sagar said, was buoyed by an out and out support from people cutting across regions in the recently concluded DDC elections.
"It is only NC that can bring together the diverse elements of a vast and diversified population of Jammu and Kashmir and make them vibrate with the renewed sentiment of unity in diversity. The story of NC is the story of the socio-political emancipation of people. Right from the party's coming into being, it has acted as a crusader of social justice, championing the cause of the poor. The sacrifices rendered by our functionaries, leaders and numerous workers have deepened the roots of democracy in J&K and given legitimacy to the electoral process in its people's consciousness. We have again inherited the mantle of leadership to tackle half a decade of development deficit, administrative neglect and skyrocketing unemployment," he said adding, "Under the Vanguard ship of Dr Farooq and Omar Abdullah, the people of J&K will again set out on the path of growth and development. The road ahead is stormy and embattled, but by striking unity we will together overcome all predicaments."