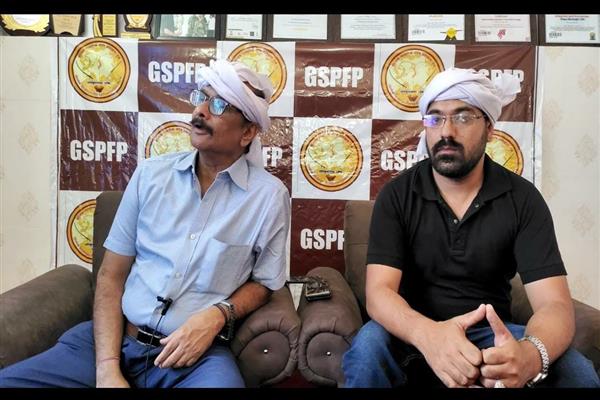 Srinagar, June 06: National Chief  Global strategic policy foundation (GSPFP), Dr Anant Bhagwat, while winding his three-day visit on Monday said that a mega event is being organized soon in Kashmir, which will prove a turning point and game changer for the region.
In a statement, he said that it will be organized by GSPFP where thousands of people will take part in the event.
Dr Anant said while briefing media at the GSPFP office here said that many people across Kashmir have been inclined towards the GSPFP and the people here want to be a part of peace and development process.
Dr Anant Bhagwat was accompanied by J&K chief of GSPFP Firdous Baba.
He said that people are taking a keen interest in developmental plans propagated by the positive platforms like GSPFP and its affiliated groups in Jammu and Kashmir and they also want to be part of the peace carvan.
Bhagwat  added that in new Kashmir opportunities were explored by the government and as such Kashmir
Valley is presently witnessing a boom in tourism activities.
"Peace is establishing its roots in Kashmir valley and as new horizon of harmony with prosperity is very much here. J&K is witnessing a corruption free administration and many key sectors are witnessing robust growth they are now almost corruption free."
He said that the attendance of employees in government offices has improved with hundred Percent now and the administration has helped in improving the infrastructure in the power Sector, as a result the curtailment schedule witnessed a lot of improvement during the winters, when power supply used to be scarce across Kashmir.
Bhagwat added that terrorism and violent extremism is now having its last breath that is why now they are targeting soft targets only as the security forces have managed to curtail their presence and might across all the districts in Jammu and Kashmir.
He said that the CID department is a powerful institution now and most of the inputs against the terrorists are being provided by the people here as people here have understood the futility of violence.
The GSPFP chief patron earlier met numerous delegations from all walks of life and also visited downtown Srinagar.
He also paid obeisance at Charar-e-Sharif shrine and had a detailed meeting with LG Manoj Sinha about future activities of GSPFP in Kashmir.