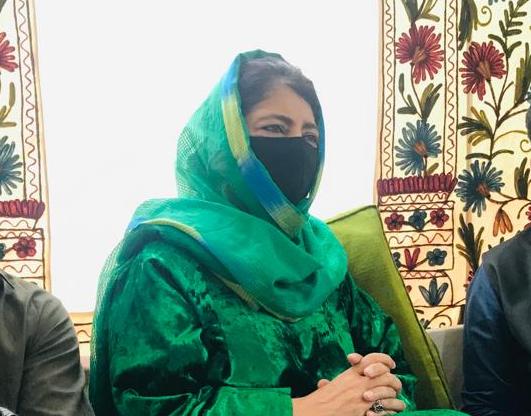 Srinagar, May 16: Peoples Democratic Party (PDP) president and former chief minister, Mehbooba Mufti on Monday said that Kashmir Pandit employee, Rahul Bhatt's killing is being used to spread hatred between Hindus and Muslims in J&K.
Talking to reporters here, she said that the PAGD leaders met Lieutenant Governor Manoj Sinha yesterday and apprised him about the need to change the policy on the ground that had deteriorated the situation in Jammu and Kashmir.
"The recent killing of Rahul Bhatt is being used to spread hatred. There is a need to ensure secure atmosphere to the Kashmir Pandits," she said.
She added that Kashmir's exactly know the importance of Kashmiri Pandits, they are part and parcel of Kashmir.
"Despite claiming high and tall about Kashmir Pandits, the government has failed to provide secure atmosphere to them. During our rule, no Kashmiri Pandit faced any untoward incident," she said.
Stating that tourism can't be seen as normalcy in Kashmir, Mehbooba said that the present atmosphere the government has created with a particular narrative must be stopped forthwith.
"Other than spreading hatred between Hindus and Muslims, the incumbent regime has nothing to sell," she said.
About the civilian Shoaib Ganie's killing in Shopian, Mehbooba said that the locals are alleging that the civilian was not killed in cross firing, thus the incident needs to be probed thoroughly and his NoK should also be given government job.