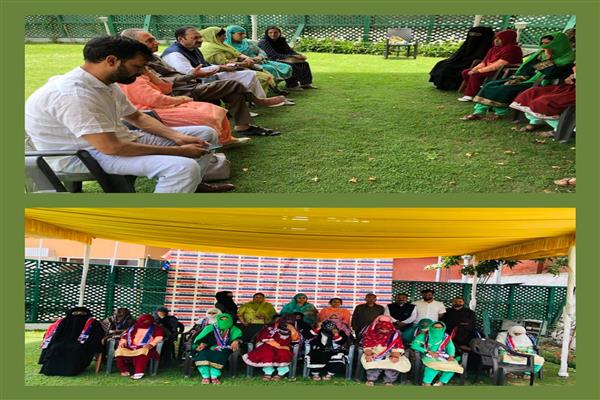 Srinagar May 16: In a major development Apni Party Women's Wing witnessed a major joining from Kupwara in presence of Former Cabinet Minister and Apni Party Senior Vice President Ghulam Hassan Mir.
Besides Mir, State Secretary Muntazir Mohi-ud-din, Provincial President Women's Wing Dilshada Shaheen, Coordinator Rafiqa, Provincial Secretary Afroza Khan, State Coordinator Youth outreach & Capacity building Programme Tariq Mohiuddin and Fayaz Bukari were present on the occasion. The joining was organised by Vice President Kupwara Parveena.
Welcoming the new entrants into the party fold, Ghulam Hassan Mir said Political empowerment supports policy making that would best support gender equality and agency for women in both the public and private spheres.
"It is really good to see women participation in politics to create a balanced political setup. Women's equal participation and leadership in political and public life are essential for achieving the Sustainable Development Goals. I welcome the new entrants into the party fold. I am sure all of us will try creating a change by working deligently on ground and strength the party at grassroot level," Mir said.
Dilshada Shaheen on the joining occasion said "It is a moment of pride to see women playing active role in politics. I whole heartedly welcome the new entrants into the party fold. It is pertinent to mention that role of women in active politics is necessary for achieving comprehensive and unbiased governance. I hope we all collectively would work to highlight and eradicate the sufferings of the common masses and work for the welfare of women," she said.
The new entrants who joined the party included Mugla Begum, Zareefa Begum, Ruqeena Begum, Sumaira Begum, Ashiha Begum, Zabia Begum, Afroza Begum, Fareeda Begum, Hameeda Begum, Shefaa Begum,Naseema Begum, Lase Begum, Naseema Begum,Sumaira Begum,Sayida Begum,Taja Begum, Mohammad Shafee and Nazir Ahmad and several others.