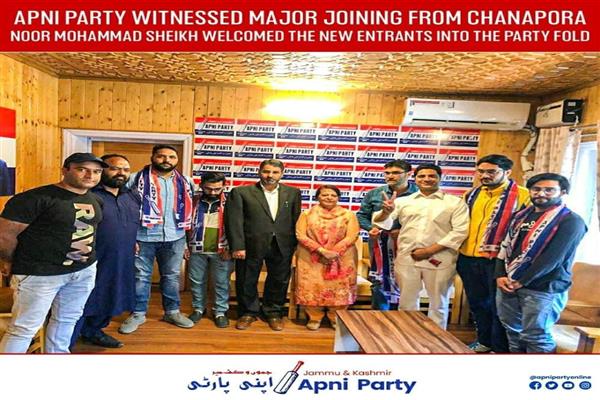 Srinagar May 9: In a recent development from chanapora constituency, Apni witnessed a major joining in presence of District President Srinagar Noor Mohammad Sheikh. The joining took place at its Party office in M2 Church Lane Sonwar Srinagar.
Besides Sheikh, Provincial President Women's Wing Dilshada Shaheen, Zonal President Amira Kadal Mohammed Ashraf Dar, Youth leader Irfan were also present on the occasion.
Sheikh welcomed the new entrants into the party and advised them to work actively towards the welfare of common masses. He also emphasized on them about highlighting the common issues pertaining to their areas.
Dilshada Shaheen while welcoming the new entrants into the party fold said each and every member of the party holds equal significance and hence all of them are supposed to work diligently in a fair and transparent manner to ensure that the local masses are provided respite from their daily issues. She also stated that Apni Party believes in the module of development hence the issues pertaining to lack of infrastructure and other basic amenities should be highlights for further solutions.