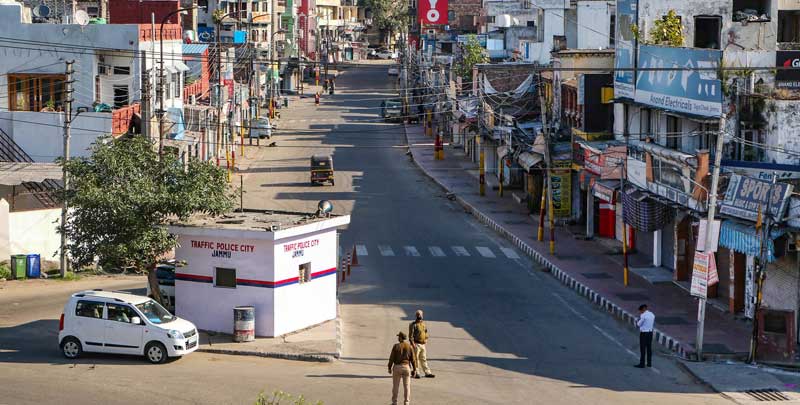 Jammu, Apr 21: Almost entire four- star and three star hotel chain in Jammu and adjoining locations are pre-occupied ahead of Prime Minister's Narendra Modi's proposed visit to Jammu and Kashmir's Samba district in connection with official's event to celebrate on Panchayati Raj Diwas on April 24.
Though senior, Union Ministers, senior bureaucrats from national capital and security officials, who accompanying Prime Minister during Jammu Kashmir visit will get accommodation at government owned properties like Raj Bhawan, Circuit House, Guest Houses etc but almost all rooms in the private hotels of Jammu were booked for Saturday and Sunday) April 23 and 24) for other delegates and political leaders accompanying prime minister.
The Hotels and Resorts including four-star and three-star properties in Jammu city and outskirts got huge booking on Saturday and Sunday by government officials, delegates, CEO's of corporate firms and PM's other entourage, who were required to be present during Prime Minister's visit.
Hotels and properties along Jammu Pathankot Highway in Kathua and Samba district, a plush hotel resort in Vijaypur and Birpur area and even all luxury hotels in Vaishno Devi Shrine's Base camp Katra have received overwhelmed booking due to VVIP visit.
"All the rooms in our three hotels are booked for Saturday and Sunday in connection with the Prime Minister's visit. It's unethical to disclose the identity of our guest but all booking is done for PM's visit," Manager of Hotel Country Inn Hotel and Restore owned by Radisson group said.
Another hotelier said that the PM's visit infused energy in the stakeholders as people only required confirmed booking without even asking for the quotations.
"Our entire hotel is booked for two days. We do not even have a single room to accommodate any guest. The VVIP visit brought the need of having seven star hotels in Jammu, so that such events carry on smoothly," he added.
Prime Minister Narendra Modi's Jammu visit on Sunday is likely to push Rs 39,000 crore investments in Jammu and Kashmir in addition to Government's policy to reach out to Panchayats across the country on Panchayati Raj Diwas.
As per officials, a UAE business delegation will also be present to support Prime Minister Narendra Modi's Rs 39,000 crore investment push in Jammu and Kashmir during his Sunday's visit to the union territory.
It will be the Prime Minister's maiden visit to J&K since abrogation of Article 370 in August of 2019.
The Prime Minister is attempting to change the narrative of the union territory ahead of elections that will take place after the delimitation exercise is completed.
Leading MNCs from UAE such as DP World, Emaar Properties, Lulu Group, Royal Strategic Partners and Wizz Financial, have pledged a total investment of about Rs 3,000 crore in sectors such as infrastructure, IT, hospitality and food processing.
Both the regions of Jammu and Kashmir will uniformly benefit from the proposed investment in the union territory.
As per data compiled by the UT administration, 19,125 kanals of land has been alloted in Jammu region to 1,105 applicants which is expected to bring investments worth Rs 17, 968 crore.
While 19,897 kanals of land have been earmarked in Kashmir region to 3,339 applicants which is expected to bring investments worth Rs 24,187 crore.
Modi will also inaugurate Banihal-Qazigund tunnel road constructed by Border Roads Organisation, lay foundation for two power projects — 850 MW in Ratle and 540 MW in Kwar — in Jammu and five expressways to be developed by National Highway Authority of India (NHAI) and 100 jan aushadhi kendras in UT.
A medicity is also being developed in the Jammu region by Apollo Hospitals. kno