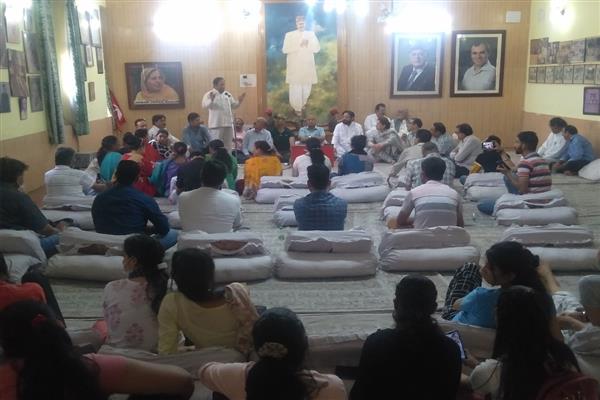 Jammu Apr 13: A day long convention of Jammu and Kashmir National Conference Minority Cell was held today at Sher e Kashmir Bhawan, Jammu under the chairmanship of party's Provincial President Jammu Rattan Lal Gupta. The meet was organized by Jatin Bhat.
Addressing a day long convention Rattan Lal Gupta said that the issues confronting the displaced Kashmiri Pandits need to be addressed on priority. He exhorted the central government to chalk out a time bound roadmap for their safe, honourable and dignified return.
Gupta described the displacement of Kashmiri Pandits as a blot on the glorious ethos of Jammu and Kashmir which is known the world over for its inclusiveness and harmonious co-existence. He also enumerated the measures taken by the National Conference during its various spells of governance for addressing the concerns and issues of the displaced community.
Sheikh Bashir Ahmed Provincial Secretary Jammu said that unemployment has caused a sense of deprivation and despair among the migrant youth and this needed to be addressed on priority.
Babu Ram Pal President Central Zone Jammu exhorted the functionaries to strengthen the National Conference and the Minority Cell at the grass roots level.
NC Minority wing functionary Jatin Bhat while referring to the plight of the non camp migrants putting in the rented accommodation called for construction of additional 5000 flats across Jammu. He also demanded raising of boundary wall in Jagati. He stressed the need for availability of basic needs in all the camps, particularly drinking water, power and medicare.
Those who were present in the meeting : Vijay Lochan P.P SC Cell, Vijay Laxami Dutta Senior leader women wing, Qazi Jalal Ud din, Ashok Koul, A.K Raina, P.l Talshi, Shadi Lal, R.L Malla, Chandra Ji, Daizy ji, Vijay Koul, Kaka Ji Bhan and others.