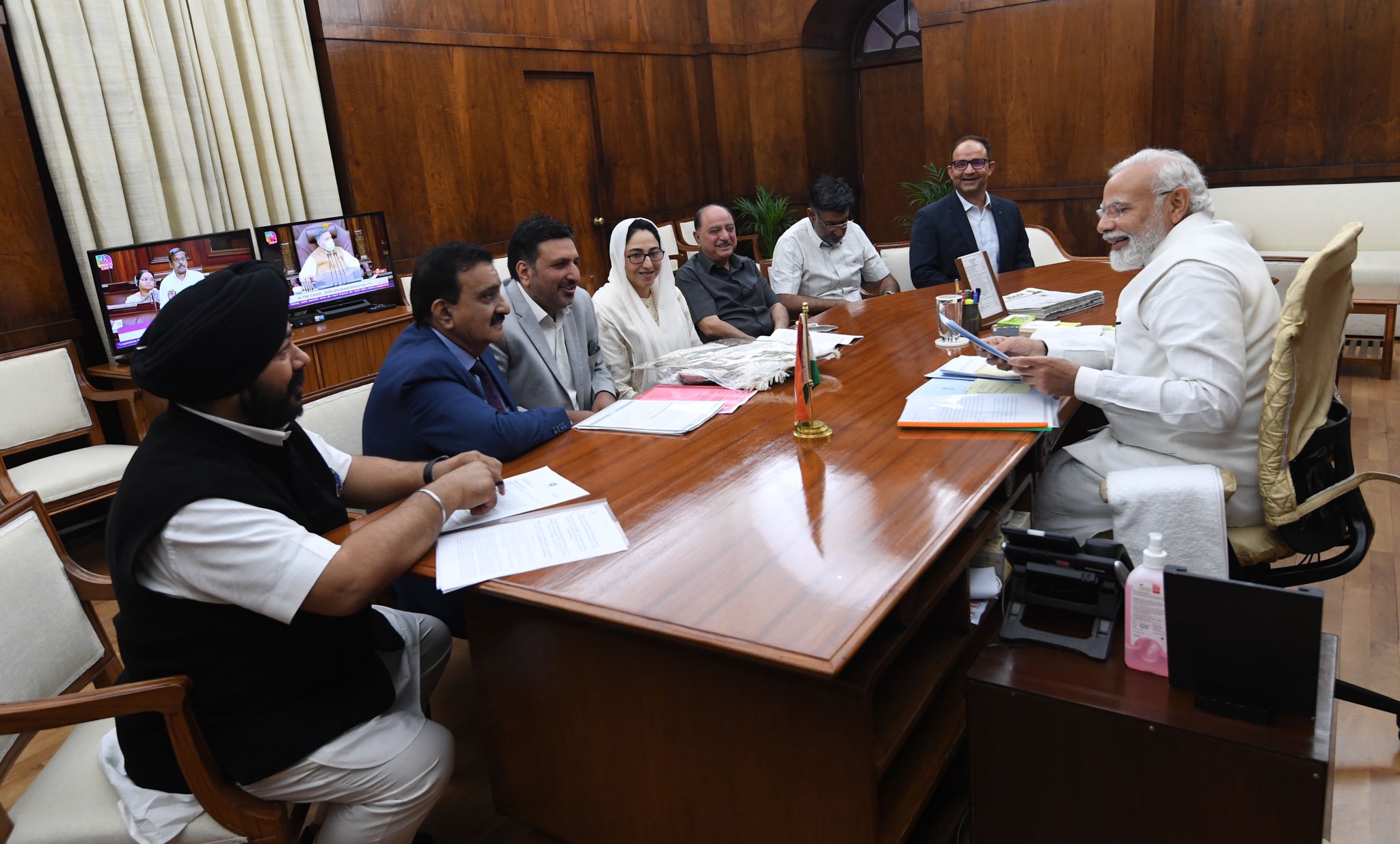 Srinagar April 05: In a major development, several business man from Jammu and Kashmir, Baldev Singh Raina, Mushtaq Ahmad Chaya and others met Prime Minister Modi on Tuesday in Delhi.
According to a statement  Baldev Singh Raina, Chair, Kashmir Chapter, PHDCCI and Mr Mushtaq Ahmad Chaya, Managing Committee Member, PHDCCI met Narendra Modi, Prime Minister of India to brief him about the significant matters concerning the industries, trade and tourism in Jammu & Kashmir.
The meeting was also attended by Syed Dharakhshan Andrabi Chairperson Waqaf Board
Mushtaq Ahmad Chaya in his interaction with  prime minister apprised him about the difficulties being faced due to pending renewal of lease agreements and Roshni land issues at Gulmarg, Pahalgam and Srinagar.
Baldev Singh Raina submitted the detailed representation about the issues of the under Construction much awaited Infrastructural Project needs to be completed in Jammu as well as in Kashmir on priority with specified deadlines that Includes AIIMS in Jammu and Kashmir, Central University at Kashmir, Four Lanning of Srinagar Jammu Highway, Rail Connectivity of Srinagar-Jammu, Metro Network of Srinagar and Jammu City, Construction of New Domestic Airport at Srinagar, Cable Car Project for Sonmarg, Pahalgam, Dodpathri and Shankeracharya Temple and Hariparbat, the Renewal of Gulmarg and Pahalgam lease deeds and help was seemed for our Trade in this situation and was requested to intervene in this matter and take an immediate action on humanitarian basis as our lives and livelihoods are at stake.
The statement read that the the issue of Existing manufacturing and Service sector of J&K was discussed and was requested that the existing Industry in manufacturing or Service sector who are at the verge of Sickness or have already turned Sick should be supported with Rehabilitation Policy.
Baldev pledged that the Emergency Credit Line Guarantee Scheme, ECLGS 3.0 announced for whole Country which is applicable to Hospitality, Travel & Tourism, and Leisure & Sporting sectors and was later extended to aviation sectors also.It was requested that the said ECLGS 3.0 should be extended to all business sectors of J&K that are in stress from last four years. The extension of the ECLGS 3.0 to all sectors of economy in J&K will surely help to revive the businesses. It was requested that In view of the Export Potential of Handicraft, Handloom, Carpets, Horticulture, Trout Fish, Saffron, Honey and other processed food and Medicinal Herbs and products from Jammu & Kashmir. The Special Economic Zone like announcement needs to be made for Jammu & Kashmir region.
*Hon'ble Prime Minister assured for all possible supports required for the development of Jammu & Kashmir.