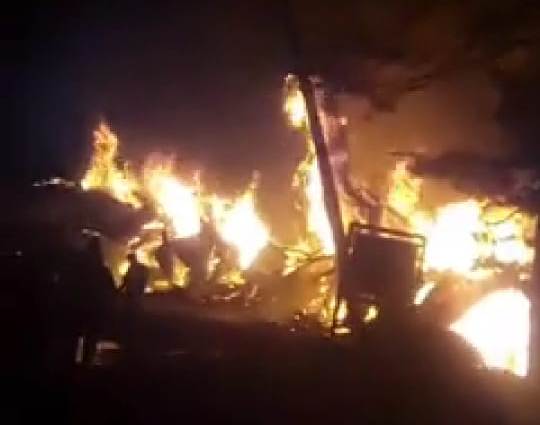 Srinagar, Mar 12: At least 17 structures and a maruti car gutted in a fire incident in Parimpora area of summer capital Srinagar on Saturday.
An official said that a fire broke out at Parimpora behind the Police station where near about 17 residential teen sheds (Doka's) besides that one store (Gudam) and a Maruti car bearing  registration number JKO1F 2235 were fully damaged.
He said that a short circuit is said to be the cause of the fire which was brought under control by fire tenders and local police.
Those whose structures were damaged have been identified as Rukhsana daughter of Khazir Mohammad Sheikh, Farooq Ahmad Koul, Yaseen Lone, Hajira Banoo, Arsheed Ahmad, Dilshada Banoo, Aijaz Dar, Gh Ahmad Kuloo, Aizi wife of Habibullah, Farooq Ahmad Gasi, Gh Mohammad Kulo, Tanveer Ahmad, Firdous Ahmad, Jani wife of Abdul Ahad, Rafeeq Bano, Gulzar Ahmad and Gh Rasool.
A police official told KDC that no loss of human life was reported in this blaze and a case under relevant section of law is being registered in this regard. kdc