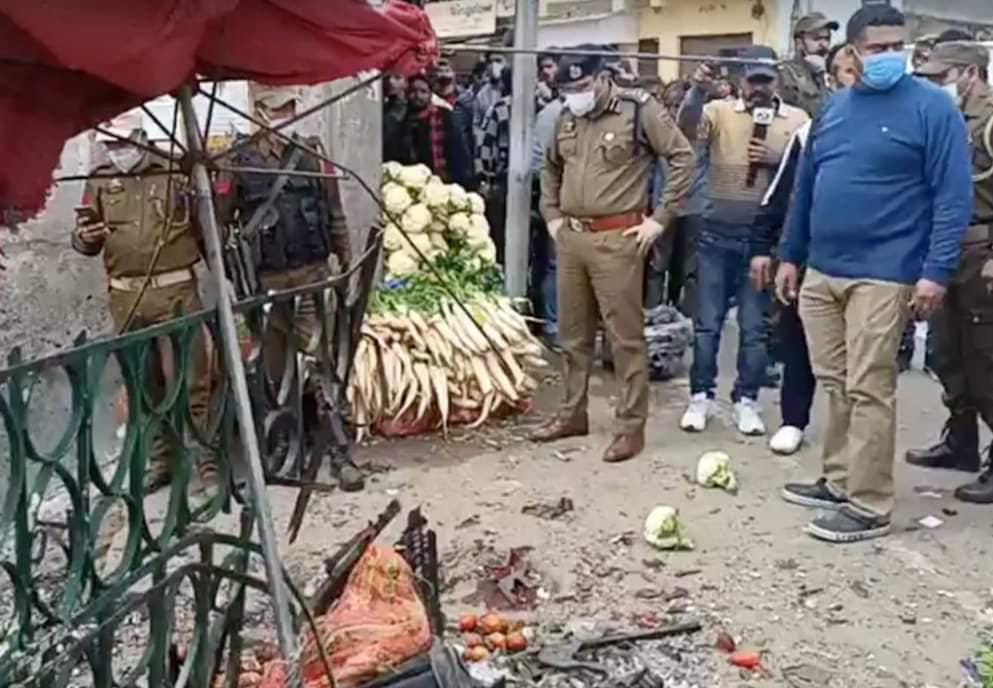 Srinagar, March 9: One person was killed and 14 others including an 8-year-old boy was injured in a "low intensity IED explosion" at Slathia chowk in Udhampur district of Jammu region on Wednesday afternoon.
"Preliminary examination suggests a low intensity IED explosion. Forensic examination and careful and minute scrutiny of the site will reveal more accurate facts. Investigation of the case has commenced," ADGP Mukesh Singh (IPS) who visited the site of blast at Salathia Chowk Udhampur and inspected the scene with DIG, SSP, NIA officials, CRPF commandant and bomb disposal experts said.
He also visited the injured at the hospital and spoke to them.
Eyewitnesses said the explosion was so powerful that some iron grills nearby were damaged in its impact. It triggered panic in the area and people moved helter-skelter for safety.
While identity of the slain was not revealed so far, the injured have been identified by officials as Hira Lal (25) of Dolpur Rajasthan, Soni Kumar (46) of Kot Patyari , Sahil Kumar (25) of Pakhalai, Anil Kumar  (19) of Bvalli Nallah, Ashok Kumar (47) of Sarsoo, Rakesh Kumar (40) of Barmeen, Amit Kumar of Bant, Bodh Raj (60) of Gole Mella , Om Parkash (60) of Hartyan, Anita (27) of Jaganooo , Kaku Ram (50) of Kaghote, Raju Ram (37) of Kuprella, Kuldeep Kumar (46) of Kuperella and Varun Jugal (8) of Donal.
Meanwhile, National Conference (NC) condemned the blast in "unequivocally". "May the deceased rest in peace. Prayers for speedy recovery of those injured," NC said in a tweet.
NC vice president and former chief minister Omar Abdullah said he was greatly saddened by the attack and the resultant death and injuries.
"I unreservedly condemn this attack, at the same time I send my condolences to the family of the deceased & prayers for the injured", Omar said in a tweet.
"My deepest condolences to the bereaved family and prayers for a speedy recovery of those injured", PDP president Mehbooba Mufti wrote on Twitter.
Peoples Conference said "terror should be condemned in one voice."
Jammu and Kashmir Apni Party president Altaf Bukhari also condemned the blast and said no words were strong enough to condemn the heinous attack on innocent civilians.
"Government should firmly resolve to avenge this barbaric action by the enemies of peace and the perpetrators of the crime should be brought to justice," he said. gns