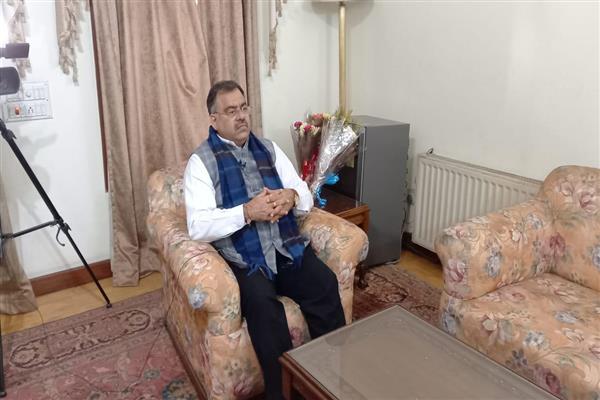 Srinagar, Mar 05: Bhartiya Janta Party National general secretary and incharge Jammu and Kashmir, Tarun Chugh on Saturday said that People's Alliance for Gupkar Declaration is a group of retired and tired people with perverted mindset.
Chugh said the leaders in the PAGD have retired and a have perverted mindset as they have always played with the emotions of the people of Jammu and Kashmir.
He said that BJP has record of every development that took place in their (BJP's) tenure and whenever PAGD wants they will provide them the data.
"I would also like to ask them (PAGD) to issue a white paper on their tenures of the last 3 decades during which they have ruled Jammu and Kashmir," he said.
Chugh said that if they think violence is happening now then they should look back at their tenures and see what the graph of killings that took place in their time and compare it with the graph of BJP's tenure.
"We provided free health insurance scheme to poor people of Jammu and Kashmir, we provided them ration through ration cards. We built road infrastructure in Jammu and Kashmir. We take out the yatra of terrorism from tourism and made Jammu and Kashmir terrorism free," he said.
Chugh said that if they compare the graph of their and BJP's tenure, everyone will get to know that during BJP's tenure citizens have been protected, while in their tenure people have been killed.
He also said that in their tenure Pakistani flag was flying in J&K, whether at Lal Chowk or anywhere else, while in BJP's time Indian flag is flying everywhere.
"They gave stones, AK47 and grenades to Kashmiri youth, but we gave them jobs, computer and education. Today youth are becoming doctors, engineers and IAS officers, then they would become Mujahideen. This is the difference. Abdullah and sons and Mufti and sons should give report card of their tenures," he added.
Lambasting at the PAGD, he said that it a group of retired and tired people with a perverted mindset, who spent their reign to destroy Kashmir and spoil its peaceful atmosphere. "Now that development is visible on ground they want to divert the attention of people from progress and development by their vague statements," he said.
On replying about possibility of holding elections in Jammu and Kashmir, he said that BJP believes in democracy and with this commitment they held BDC and DDc elections their.
"Now delimitation process is going on in J&K and it is an independent process, which is why it is taking time. As and when the process is completed elections will be held soon in J&K," he said.  kns