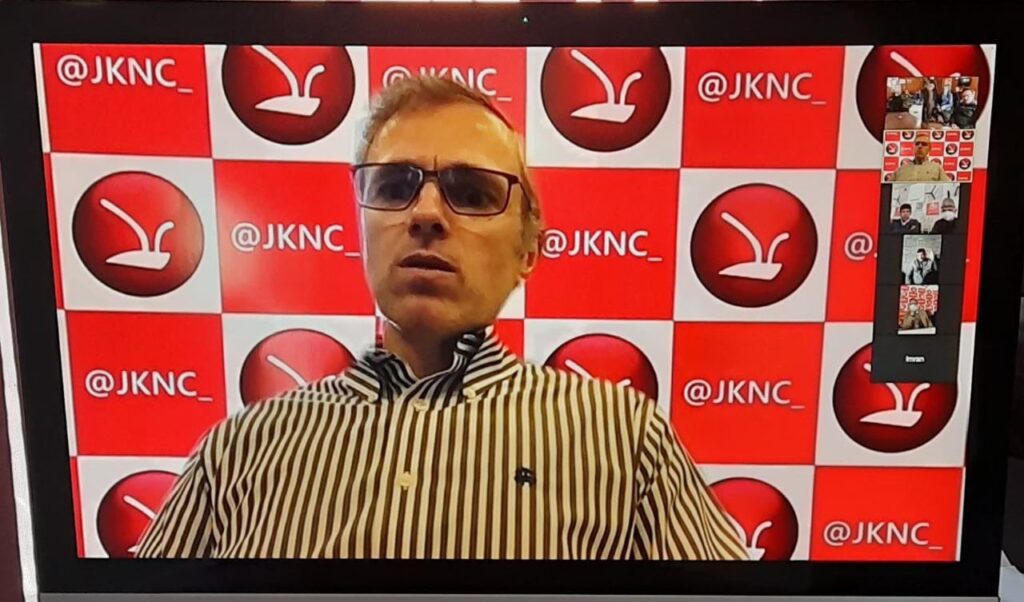 Srinagar, Feb 10: National Conference (NC) Vice President Omar Abdullah Thursday presided over a virtual meeting of the party's constituency In Charges to discuss the implications of the delimitation commission's 2nd draft working papers and subsequently provide feedback to party MPs for the response that has to be submitted to the delimitation commission.
During the course of the meeting, the vice president had real-time interaction with the party constituency In Charges, Provincial and Zonal Presidents.  During the breadth of the meeting the implications of the delimitation commission second draft report and the prevailing political climate were debated upon by the functionaries.
During the six hour long real-time interaction, the constituency In Charges of Kashmir province shared their appraisement with regards the delimitation draft working paper with the Vice President.
Interacting with the Party's In Charge Constituencies and other functionaries, Omar encouraged everyone attending the meet to step up direct contact with people as well as keeping a close tab on the evolving political situation in their respective constituencies.
Among others Party Provincial Nasir Aslam Wani, Senior leaders AR Rather, Choudhary Muhammad Ramzan, Sakina Itoo, Gh Ahmed Shah, Shameema Firdous, Hasnain Masoodi, Irfan Ahmed Shah, Ali Muhammad Dar, Javed Dar, Nazir Ahmed Khan Gurezi, Dr. Bashir Ahmed Veeri, Aga Syed Ruhullah Mehdi, Muhammad Syed Akhoon, Muhammad Khalil Bandh, Peer Afaq, Dr. Sajad Shafi Uri, Ghulam Mohi Ud Din Mir, Abdul Majeed Larmi, Altaf Ahmed Wani, Abdul Ahad Dar, Tanvir Sadiq, Imran Nabi Dar, Salman Ali Sagar, Syed Tauqeer, Ahsan Pardesi, Peer Mohammad Hussain, Riyaz Khan, Farooq Shah, Reyaz Bedar, Saifudin Bhat, Dr. Muhammad Shafi also participated in the real time virtual interaction.