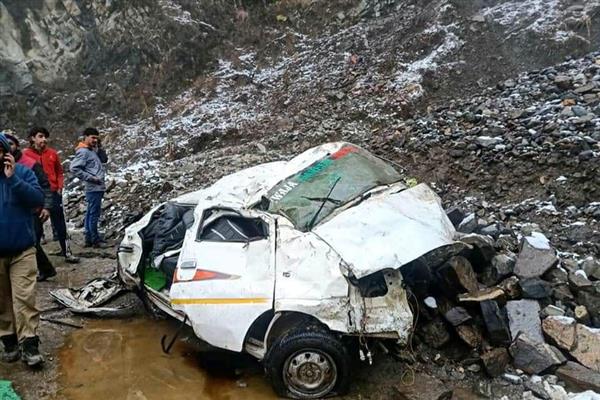 Kishtwar Feb 3: Six persons died in a deadly road accident near Nagnigad Keshwan, some 30 kilometers away from district headquarter Kishtwar in Jammu region on Thursday.
Official sources said  that five persons died on the spot while succumbed to his injuries on way to the hospital.
They said that an Eco sports vehicle (JK17-5089) with six persons on board skidded off the road and fell into a deep gorge. The vehicle was completely damaged in the accident while all persons on board died.
Local police and soldiers from 26 Rashtriya Rifles rushed to the spot to assess the situation.
They said all the dead bodies have been recovered from the spot.
They added that among the dead are two brothers. An official identified the deceased as Abdul Latif, Abdul Rehman, Muhammad Akram, Ata Muhammad, Inam Ahmed and 18 year old Zameer Ahmed. knt