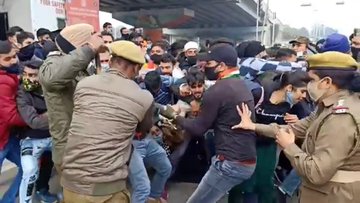 Jammu, Feb 2: Police arrested dozens of job aspirants including females after they staged a massive protest against the BJP Government for failing to provide jobs to unemployed youth.
The aspirants who had applied for their recruitment in Border Battalion in the Jammu region held a demonstration for the failure of concerned authorities to hold the written examination till date though their physical tests were conducted several months back.
The protesters were carrying placards denouncing the BJP policies towards unemployed youth.
Sources said that unemployed youth mostly females assembled at Bikram Chowk Jammu and staged a massive demonstration against the BJP.
Police faced a tough time tackling them and dozens of aspirants were detained.
The protestors said for the border villages of Jammu and Kashmir, applications were sought from the youth by the Central Government to form a Border Battalion, in which many youth male and female had applied and appeared in physical examination, but even after several months, their written examination has not been conducted.
One of the lady aspirants demanded that written examinations should be conducted without any delay. She said that Central Government has been misleading and doing nothing to mitigate the sufferings of unemployed youth of Jammu and Kashmir. knt