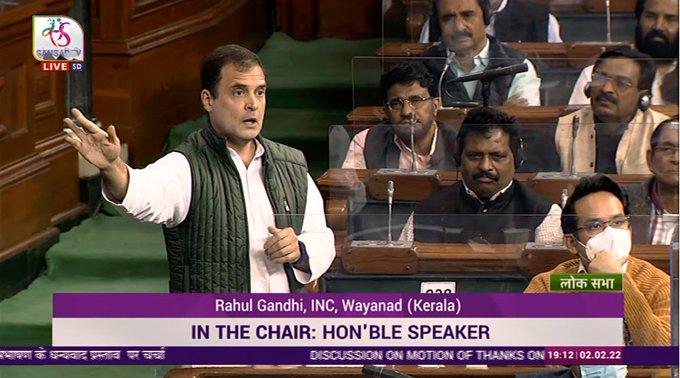 Srinagar: Congress leader and Member of Parliament, Rahul Gandhi has said that India made a made a strategic mistake in Jammu and Kashmir and it was very clear now  that Chinese and Pakistanis were planning.
He said the China-Pakistan nexus now poses a serious threat to Indian nation.
"We have been weakened. Our institutions are under attack. The Chinese have a very clear vision of what they want to do. The single biggest strategic goal of India's foreign policy is to keep Pakistan and China separate and you brought them closer. Do not underestimate the force, the power that stands before us. This is the single biggest crime against the people of India. I can clearly see that China has a plan," Congress leader Rahul Gandhi said in his address to the parliament.
"We are all nationalists. The foundation of their plan has been put in place in Doklam. This is a very serious threat to the Indian nation. We have made huge strategic mistakes in J&K and in our foreign policy. It is very clear that the Chinese and Pakistanis are planning. Look at the weapons they are buying, look at the way they are talking. We have made a massive blunder and I am absolutely sure we can defend against the Chinese. Remember, you (BJP led govt.) will be responsible. As a nation, it is important to listen to us. The nation is at risk from outside and inside. and I don't like that. This worries me. I know many of you will rubbish what I am saying but remember you are putting the nation at great risk,".
Rahul Gandhi said the single biggest strategic goal of India's foreign policy has been to keep Pakistan & China separate..
"You have brought Pakistan and China together," said Rahul Gandhi in Lok Sabha.
In August 2019, BJP led dispensation revoked article 370 in Jammu and Kashmir. Many observers believe this angered china who along with Pakistan activated both LOC and LAC to express their displessure with the decision.
He said that India was isolated in the region.
"Ask yourselves why you are not able to get a guest on Republic Day. Today India is completely isolated & surrounded. We are surrounded in Sri Lanka, Nepal, Burma, Pakistan, Afghanistan, China. Everywhere we are surrounded. Our opponents understand our position," Rahul Gandhi said.