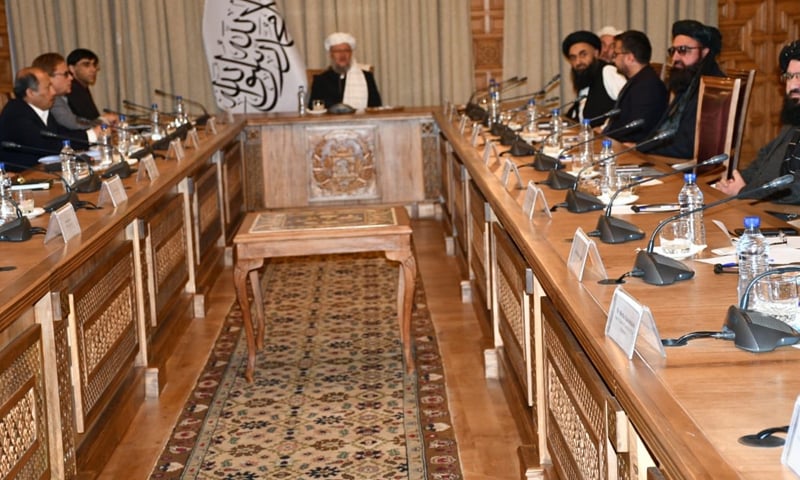 Srinagar: Afghanistan acting Deputy Prime Minister Abdul Salam Hanafi assured on Saturday a high-level Pakistani delegation, led by National Security Adviser (NSA) Moeed Yusuf, that Afghan soil would not be used against its neighbours, including Pakistan, Dawn news reported.
A statement issued by the presidential palace in Kabul quoted Hanafi as saying: "The policy of the Islamic Emirate [of Afghanistan] is clear that that we will not allow anyone to use Afghan soil against [our] neighbours and other countries.
"We also want similar action from others," he added while hosting the inter-ministerial delegation in the Afghan capital, which had arrived earlier in the day.
The assurance from the Taliban government in Kabul comes amid a spike in attacks by the banned Tehreek-i-Taliban Pakistan — whose leadership is said to be headquartered in Afghanistan — in Pakistan after the group declined last month to extend a ceasefire with Islamabad.
The delegation led by NSA Yusuf is visiting Kabul for talks on bilateral matters of mutual interest, focusing on Pakistan's efforts to avert a humanitarian crisis in the war-torn country.
The visit was earlier scheduled on January 18 but the trip was delayed due to bad weather.
Upon arrival in Kabul today, the NSA and his delegation were received by Nooruddin Azizi, the acting minister for commerce and industry, at Hamid Karzai International Airport, according to the Pakistan Embassy. Senior officials, including Pakistan's Special Representative for Afghanistan Mohammad Sadiq, were also part of the delegation. (Dawn)