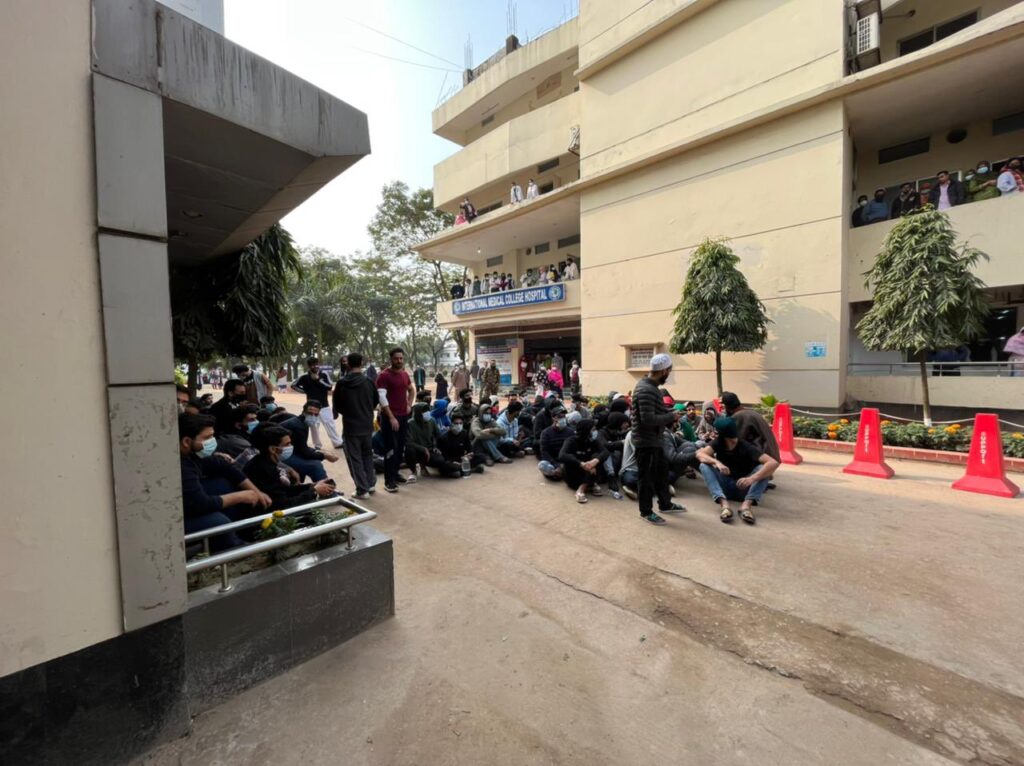 Srinagar, Jan 27: On receiving a strong repulse by students, authorities at a medical college in Bangladesh had to revoke suspension of a Kashmiri student, who reportedly made successive bids on his life within a span of hours on Wednesday.
A student  over phone said the fresh incident has co-relation with an incident taking place on December 16, 2021.
"There was a football match between the Kashmiri students and the locals that day", he said adding during the match two students, one of them a Kashmiri, got involved in a verbal duel. After intervention by those present on the ground the things were negotiated and the issue settled amicably".
"What was intriguing to us was that the respective college authorities – International Medical College – served a notice to the student on Wednesday, suspending him for a period of six months. On learning about it, we approached the college authorities but they turned down our plea on the pretext saying the decision was being made by the Academic Council after conducting an investigation regarding the issue pertaining to the football match.
"Aggrieved by the surprising and yet shocking directive of the college authorities, the student who already was enduring an extension attempted suicide last night, hanging himself by a rope to a ceiling fan inside the hostel room", the student said.
"The colleagues took the student to a college hospital, where he was kept under intensive care for several hours", he said adding However once he regained his consciousness, he made another bid by trying to kill himself with an oxygen pipe.
"The students for all night long kept waiting with bated breath about the fate of their colleague, receiving little response from the college authorities despite being informed of the looming situation", he said.
"On sensing insensitivity from the college authorities, we lodged a protest which finally forced them (authorities) to reach to us", he said adding the college authorities assured us that the suspension would be revoked unilaterally with them further saying that no such thing would be repeated in future.
The students have also alleged the college authorities of acting partially to favour local students over Kashmiri students.
When contacted, Saadat Chaudhary, Vice-Principal of International Medical College, located at Setayesh Ghazipura in Tongi township, said that the suspension was revoked purely on humanitarian grounds. "The student was suspended a second time from College for his proven direct involvement in inciting fight", Chaudhary said.
"We do feel Kashmiri students are very bright and talented and some and few of them at times a bit unruly", he said adding their talent combined with focus can help them to be really good and humane doctors."
Regarding the demands put forth by the students, Chaudhary said all the demands have been accepted and hopefully nothing of such type will take place at the college.
Asked on what grounds was the suspension revoked, Chaudhary said it was done purely on humanitarian grounds.
Regarding the health of the student, he said he said his health is improving and there was nothing to be worried about.
Another group of students pursuing their medical degree from different colleges in Bangladesh have in the meantime decried the alleged indifferent attitude by the college authorities.
"We have been here to pursue our degrees and after spending so much of money we are not being treated well", they said, adding, we have come here travelling this much distance to develop our acumen as good doctors but we are being met with a totally indifferent attitude.
"The parents should intervene and make the college authorities accountable for whatever we are going through", they said adding they (parents) should not believe on every thing they are being conveyed by them (college authorities). gns