Jammu, Jan 26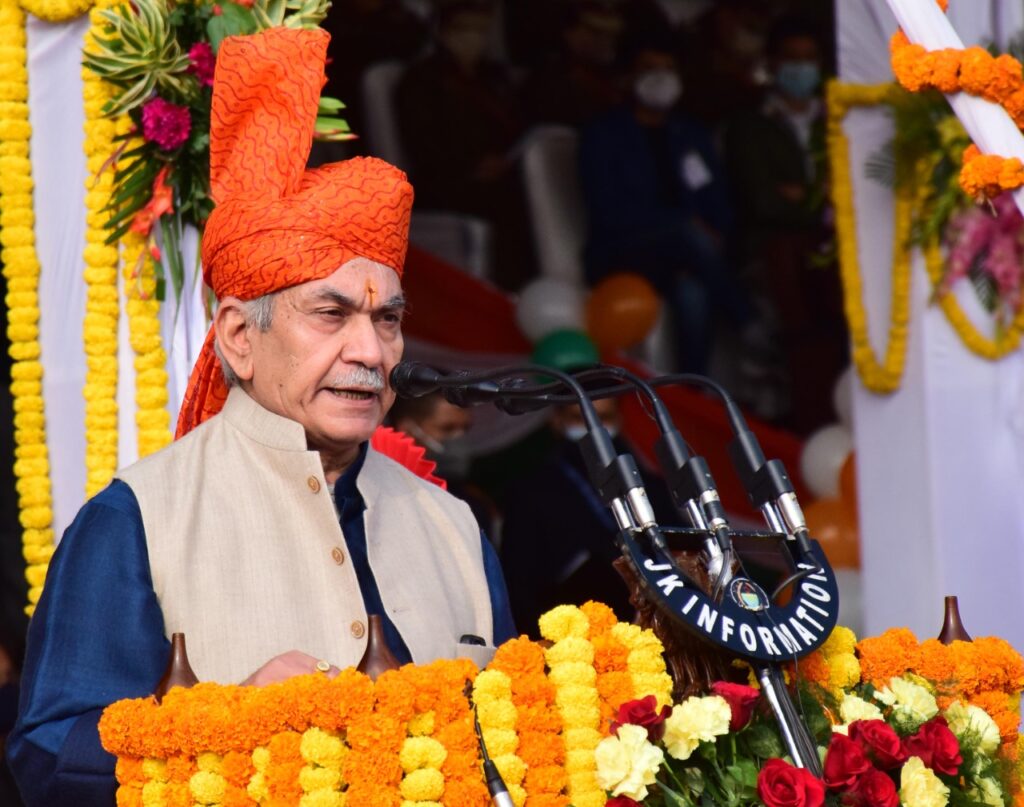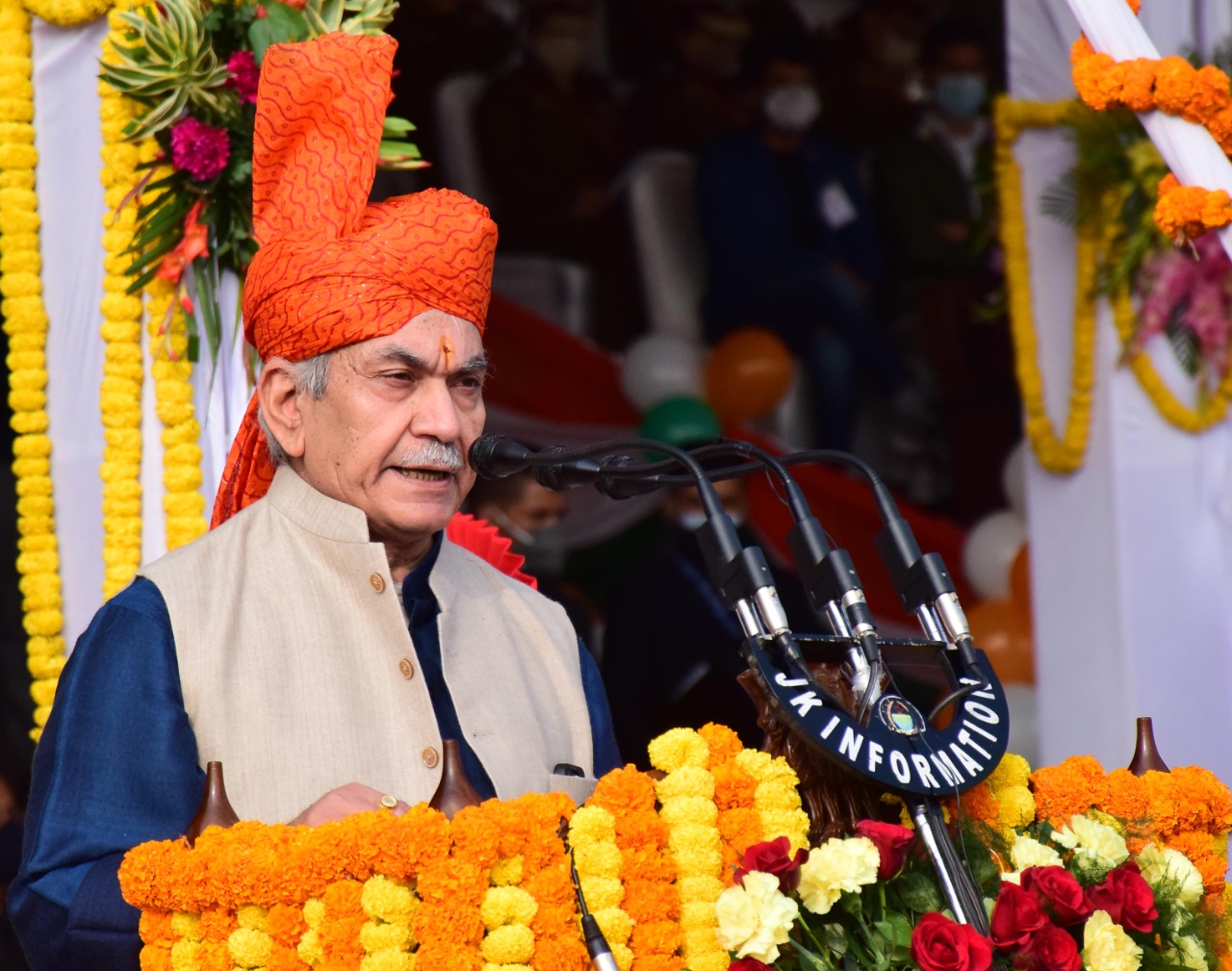 Srinagar: Lieutenant Governor, Manoj Sinha on Wednesday said that the land use change policy has been simplified which is likely to attract more investment and that the people are being misled on this issue.
"Government is developing Jammu and Kashmir as the piece of Indian culture and ethos that has the capability to provide opportunity to industries to compete, connect and collaborate with its readily available abundant resources," he said while addressing the January 26 function in Jammu. "Despite challenges, efforts are underway for turning Jammu and Kashmir into a preferred destination for industrial investment and opportunities", he added.
He said J&K is fast moving towards becoming a powerful and self-reliant Union Territory by improving the standard of living of farmers, youth, women, laborers and every citizen. "The industrial revolution started just a year ago has achieved much more than what the Union Territory had clocked in the last 72 years. After the implementation of new industrial scheme under the guidance of Prime Minister Narendra Modi, and Home Minister Amit Shah, investment proposals worth Rs 48,000 crores have been received," observed the Lt Governor.
He said that the land use change policy "which was a major impediment for the industrial development of the region" has been simplified which is likely to attract more investment. However, he said the people are being misled on this issue too.
"I assure that the land owners and farmers that all these changes have been effected with the sole aim of empowering them. There is a section in the society which has always been misleading the people about imaginary issues like demographic change, and on this pretext the most hardworking and needy class of people had been deprived of alienated their own land, or even using it as per their wishes or requirements," he added.
The Lt Governor reiterated "Administration's commitment" of promoting local businesses in real estate sector. "Jammu and Kashmir recently hosted the first-ever historic Real Estate summit in December 2021, in which investment proposals worth Rs 18,300 crores were finalized."
The Lt Governor said that the "central government under the strong and able leadership of Prime Minister Narendra Modi took the bold and decisive step of breaking the shackles erected in the path of development of Jammu and Kashmir.
"After the historic transformative changes in August 2019, Jammu and Kashmir is poised to become the latest success story among Indian states and a model of Socio-Economic development for the country. The government is committed to build a strong Jammu and Kashmir," he said , adding, "we will continue to march ahead with Mantra of 4 P's — Peace, Progress, Prosperity and People first. We are determined to ensure every single citizen of UT enjoys prosperous and peaceful life."
The Lt Governor highlighted the co-existence of various religions enriching and diversifying Jammu and Kashmir's cultural heritage and making the J&K an example of immortal organic composite Indian culture.
Giving details of the Government's efforts in employment generation in the last one and a half year, the Lt Governor said that about 11,000 appointments have been made in various government departments in a fair and transparent manner, which was unprecedented in the history of Jammu and Kashmir. "For the first time, children from the disadvantaged and poor sections have secured jobs on the basis of merit, turning their dreams into reality."
Further, he said, 20,323 additional posts at various levels have been identified and referred to the Jammu and Kashmir Services Selection Board for recruitment. Besides, he said, 1850 appointments have been made in J&K Bank at various levels in a fair and transparent manner. "As many as 1,37,870 youths have been provided assistance in their entrepreneurial ventures under various self-employment generation schemes and programmes," he added.
The Lt Governor expressed his heartfelt gratitude to all the doctors, nurses and healthcare workers who are engaged in selfless service to humanity.
He said that the health care infrastructure has undergone revolutionary changes since 2014. "With the establishment of 2 AIIMS, 2 Cancer Institutes, 7 new Medical Colleges, 10 New Nursing Colleges and 150 District and Sub-district Hospitals and thousands of Health and Wellness Centers, Jammu and Kashmir now is placed amongst the leaders in the availability of health care infrastructure."
He said that Peace in Jammu and Kashmir is a prerequisite for a vibrant tourism sector, which of late has set new employment and revenue generation records. "Between August and November 2021, about 52 lakh tourists visited Jammu and Kashmir."
He said that the government was committed to provide "justice to the citizens who were forced to leave their homes due to onset of militancy in 90s."
"So far, 7312 applications have been received through Kashmir Migrant Portal launched last year for addressing their grievances, out of which 4826 cases have been resolved," said the Lt Governor.