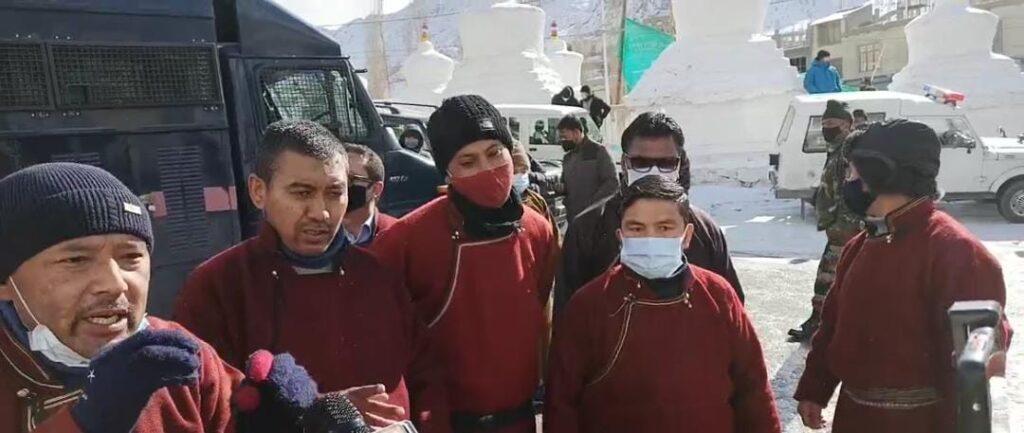 Leh, Jan 26: Expressing serious resentment and anger, the Councillors of Ladakh Autonomous Hill Development Council (LAHDC) Leh Wednesday alleged that they were denied permission for attending the Republic Day function held at Polo Ground, Leh for no reasons. However, the chairman of the Council said that the matter is being investigated and officials are verifying the circumstances.  
The main function of Republic Day in Leh as per officials was held at Polo Ground.
Talking to reporters, the Councillors while identifying themselves as part of the ruling BJP, Opposition, and Independent, said that they were not allowed to enter the Republic Day main function at Leh and it has angered them since they were not given respect.
They said that the council will celebrate the forthcoming 15th August separately since the Indian flag deserves a huge amount of respect.
"This move is aimed to damage the Council. We strongly condemn this act," the angry Councillors said.
They demanded an answer from the Lieutenant governor of Ladakh saying that as to why anything such happened to them.
Meanwhile, reacting to the allegations, the Chief Executive Councillor (CEC) Leh Advocate Tashi Gyalson while terming it unfortunate said that the matter has come to their knowledge as well. "The matter will be investigated and the reason that led to this incident will face strict action and the same has been assured by the lieutenant governor as well," CEC said.
He said they have talked to Lieutenant Governor, ADGP, and Advisor besides the SSP has gone to the residence of Councillors to talk to them.
To a query, the CEC said that it is important to hear both parties including the Councillors and another end as well and terming it a deliberate move.
He further said that they have asked for a proper investigation into the matter.
Meanwhile, Morup Dorjay one of the Councillor, part of the ruling Bharatiya Janata Party (BJP), who was denied permission said that the highest institution in the region is the Hill Council.
"We had received the invitation cards for the function. We had come together in an official vehicle. All of us were denied permission for around 15 minutes, we were made to stand there," he said.
Later, he said police and other officials approached them and asked them to enter the venue but "all of us anonymously rejected their request since all of us are public representatives."
"It's a bureaucratic rule and seems like a colonial era," he alleged.
He informed a high-level inquiry has been initiated in this regard by the lieutenant governor's office to ascertain the circumstances.
According to an order issued by ADGP Ladakh Police, two policemen including Teswang Paljor (SI) and Abdul Gani (CT) have been attached to DPL Leh with immediate effect against pending inquiry.
The Councillors addressed a presser later during which they accused the administration of attempting to disempower the Hill Council and demanded a high level investigation so that those involved face the law. kno