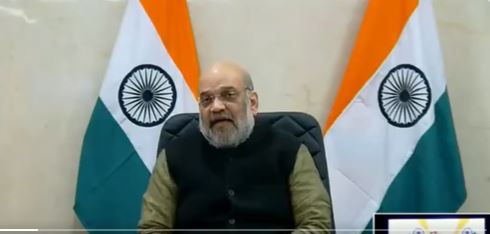 Srinagar, Jan 22: The Union Home Minister, Amit Shah on Saturday afternoon released a first-of-its-kind District Good Governance Index for 20 districts of Jammu and Kashmir and stated that it is an important step towards good governance at the grassroots level.  
Speaking on the occasion, Shah said that Jammu and Kashmir witnessed a huge change after 2019 and today is an important day not only for Jammu and Kashmir but for the whole country because the new beginning that Jammu and Kashmir has made today will go to every state of the country.
Shah said that it will lead to a healthy competition of good governance in every district of the country.
"Good governance is to reach to the ground level in a true sense and the district is an important entity. The competition between the districts through this Good Governance Index will be of great benefit to the general public of Jammu and Kashmir,"
Shah also said that after the launch of Good Governance Index under the leadership of PM Narendra Modi, there was a healthy competition among the states and along with the J&K District Good Governance Index, now there will be healthy competition among the districts across the country to give good governance.
Lauding the recent developments in the UT, Shah also noted that several developmental works had been undertaken in Jammu and Kashmir.
"Record number of tourists visited J&K this year. People are receiving direct benefits from the government scheme," he added
Notably, the District Good Governance Index of Jammu and Kashmir was prepared by the Department of Administrative Reforms and Public Grievances (DARPG) in collaboration with the Government of Jammu and Kashmir.
Union minister Dr Jitendar Singh and Jammu and Kashmir Lieutenant Governor, Manoj Sinha were also present on the occasion, besides other officials and officers.