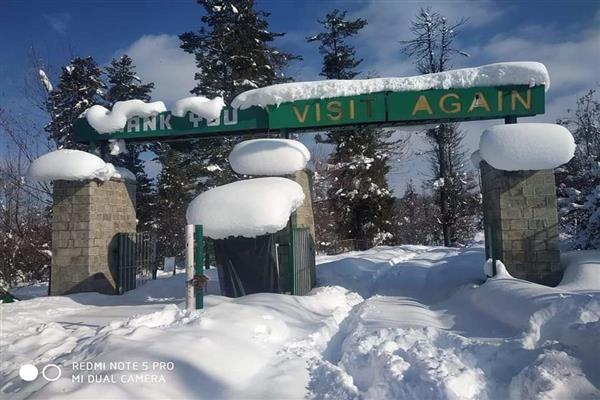 Budgam, Jan 13:  Dozens of tourist vehicles are returning back from either Khansahib or Mujpathri on a daily basis from the last 3 days as the road leading to the tourist destination of Doodhpathri has not been cleared even after 6 days. The locals living around Doodhpathri have criticized the Govt particularly the district administration Budgam for what they called "mismanagement and inefficiency" of authorities.
"It is now 6th day since we have witnessed snowfall in Kashmir, but unfortunately the Raiyar Doodhpathri road is still closed. The snow is not cleared from this 7 kms stretch with the result many tourists return back either from Khansahib or from nearby villages such as Mujpathri or Raithan. This is complete mismanagement of district administration and we demand stern action be taken against the officials" said Ghulam Nabi a local resident of Raiyar.
The Mechanical Engineering Wing has recently sent a dedicated snow cutting machine to Budgam and the same was used to clear Kanidajan -Yusmarg road but the machine has not been sent to Doodhpathri.
Reliable sources have revealed that the newly procured snow cutting machine Fresia has been damaged at Yusmarg and is under repair with the result the same could not be sent to Doodhpathri.
"We appeal LG Manoj Sinha , Divisional Commissioner and Commissioner Secretary Tourism to open Doodhpathri road as soon as possible as the livelihood of locals is at stake. The closure of this road for six consecutive days clearly indicates that Govt is not bothered about developing Doodhpathri as a winter tourism destination" said Sajad Ahmad a resident to Kralpathri Budgam. kns