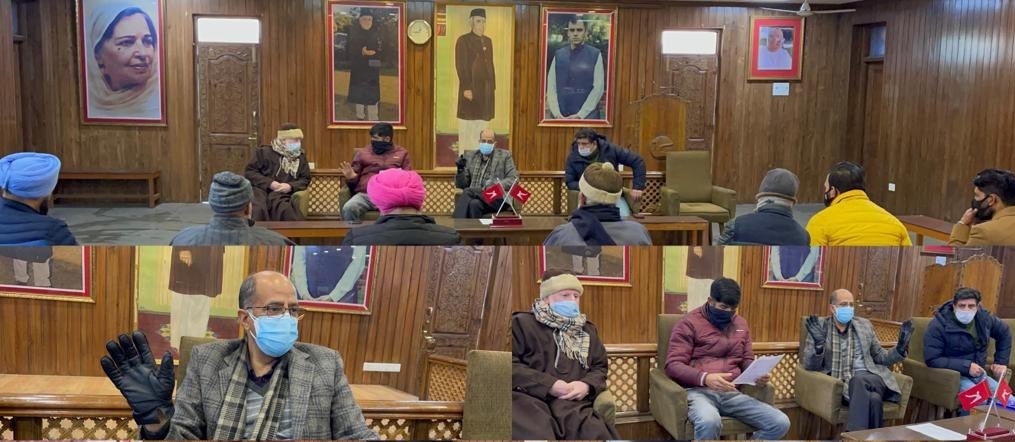 Srinagar, Jan 12: National Conference (NC) on Wednesday said that the undemocratic changes brought in Kashmir has upended more than half a century of careful politics in Kashmir, recasting the story of Jammu and Kashmir from a unique democracy to a bureaucratic set up.
This was said by the Party Provincial President Nasir Aslam Wani, while addressing a working group meeting of block functionaries of Amirakadal segment.
According to a statement, the meeting was attended by the party's Block President Rafiq Ilahi, delegates, YNC, Women's Wing, Minority Wing functionaries.
Addressing the meeting, Nasir fired the salvo against the forces, which are hell bent to divide people of Jammu and Kashmir on regional, ethnic and religious basis.
"These forces are hell bent to divide and pitch the people of J&K against each other. Be it delimitation draft, or any other order, all these orders are aimed to sow seeds of discord in the region. These policies have upended the decades of careful politics in J&K which has been reduced to a tool by ruling BJP to gain electoral dividends elsewhere in the country," he said.
Calling out the lies on the exponential augmentation of infrastructure, and pushing the targets of employment and economic development, Nasir said that nothing that is claimed is visible on ground. "CMIE data on unemployment in J&K debunks BJPs far-fetched claims. Our hoteliers, transporters, small and medium scale businessmen have been the worst hit," he said.
The idea of peace and prosperity in J&K will remain elusive until New Delhi treads the path of course correction which he said involves restoration of abridged democratic and constitutional rights of the people of Jammu and Kashmir.
Exhorting the functionaries, he said that there is no substitute to NC. He asked the workers to take NC ideology to every door step.