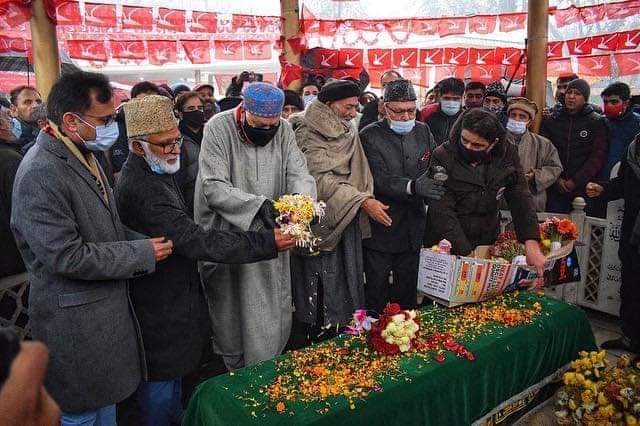 Srinagar, Dec 05: National Conference (NC) president Dr Farooq Abdullah Sunday asked the party men to be ready for a stage where they may have to offer similar sacrifices as that of Indian farmers, for getting back the rights snatched by the Centre.
Addressing party workers at his father and NC patriarch Sheikh Muhammad Abdullah's mausoleum at Hazratbal here on the occasion of Sheikh's death anniversary, Dr Farooq said that every single NC worker and leader has to be remain in touch with people on ground in every village and locality.
"All of you have to be steadfast. Centre repealed farm laws after the sacrifices of 700 farmers. We may also have to offer similar sacrifices to get back the rights that have been snatched from us by the Centre," he said as per local media.
Hundreds of NC workers and leaders had assembled at Hazratbal to pay tributes to NC founder on this death anniversary amid incessant rains.
Reacting to Union Home Minister Amit Shah's recent statement that post abrogation of Article 370, J&K is witnessing peace and tourism, Dr Farooq said that if tourism is picking up in Kashmir, what does that mean? "Is tourism everything," the NC chief asked.
He said that it was after massive resistance by the families of three slain persons of Hyderpora encounter that the police and the administration had to exhume bodies of two and hand them over to their families.
"The body of the third innocent is yet to be handed over to his family in Udhampur," Dr Farooq said. He asked party men to start public outreach programs and stay connected with people in every village and locality across Kashmir.
Abdullah said that anybody who raises voice against the government is being silenced by the stringent policies.
"Media, which is the fourth pillar of democracy has been facing daily harassments and intimidations for doing their professional duties. They are not allowed to report the ground situation with accurate credibility. If they do anything against the authorities, then they are being questioned in police stations," he said.
He further said that unity is the key to win every struggle and only by the unity of the people of valley, the families of the innocent civilians were given their bodies of those who were killed in Hyderpora encounter.
"Otherwise nobody knows what their families would have been going through. The voice of the people made the authorities to change their decision and the families were allowed to give them a dignified burial," Abdullah said.
He said, however, the family of third civilian is still waiting for his body to be returned to them.
He said that instead increasing employment, they are terminating employees by giving absurd reasons. "The people of Punjab and Haryana have been given employment in J&K bank then where will our people go. This is complete injustice to the youth of Jammu and Kashmir," he added.
He also asked the party workers to reach out to all people whether in villages or in towns. "The pain of people needs to be understood. If we do not feel the pain of people then we won't survive as a political party. Our foremost responsibility is to reach out to the problems of common man and to be a voice for their concerns and aspirations," he added.
He said that it is a great achievement for the NC that people are coming forward to support and vote for them.
"This is a proof that people have confidence that only NC can restore all the rights of the people of Jammu and Kashmir," he said.