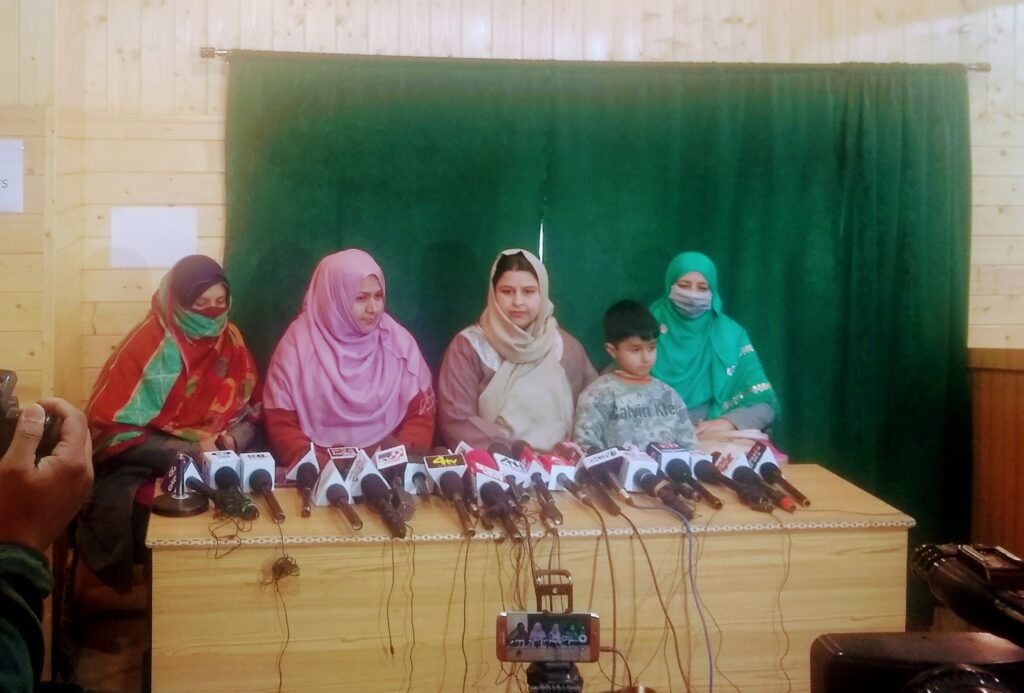 Srinagar, Nov 29: The Pakistani wives of former Kashmiri militants Monday urged Prime Minister Narendra Modi and the J&K's Lieutenant Governor Manoj Singh to grant them citizenship rights or to repatriate them back to Pakistan.
Addressing a press conference here at the press club Srinagar, the Pakistani brides said majority of them have been divorced by their husbands after they travelled to this side of Kashmir since 2010 and many of them have already committed suicides.
"We are feeling insecure and are afraid about the security of our children here given the present prevailing situation," said Misbah, a Pakistani bride, who is married to local Kashmiri from Handwara area of northern district of Kupwara. She was flanked other PaK brides as well.
"Given the present situation here, we are feeling totally insecure. We urge the Prime Minister of India Narendera Modi to decide our fate once for all before we get killed here. We have a valid Pakistani passport and what is wrong in allowing us to go back to Pakistan," she asked. "We urge the PM Modi and the J&K LG and other high level officials to either grant us permanent citizenship or to send us back to Pakistan."
Misbah said they are facing an identity crisis. "We are facing tremendous hardships and so are our children. We stand nowhere and don't have any identity," she said as other female members sitting beside her echoed similar concerns."
Under a rehabilitation policy announced by then Chief Minister J&K Omar Abdullah in 2010, more than 550 militants returned to Kashmir, many of them along with their families.
After the eruption of militancy,  in 90s thousands of youth crossed over to other side of LoC for arms training. But many of them preferred to live a normal life in Pakistan administered Kashmir (PaK), married there, had kids and then decided to return under the 2010 policy.
"The moment we landed in Kashmir, we started facing hardships and lot of problems. When we went to schools to get our children admitted there, they were refused admission on the pretext they were born in PaK," said another PaK bride, who along with her three children had travelled from north Kashmir's Kupwara district to narrate her ordeal.
She said that after many years, they spent in Kashmir, their husbands were denied government and private jobs with the result they divorced their wives.
"Majority of us have been divorced and we are staying illegally in our in-laws houses. We have nowhere to go. We appeal to Prime Minister Narendra Modi and also the minister for external affairs Sushma Sawraj, who being a woman can understand our pain and sufferings, to grant us citizenship," she said.
Speaking on the occasion, another PaK bride Safiya said that they never knew their life would turn into "hell" after returning to this part of Kashmir.
"We have been moving from pillar to post but nobody is paying heed to our requests but to no avail. We hope that government of India and government of Pakistan would act before we decide to end our lives one by one," she said. kno