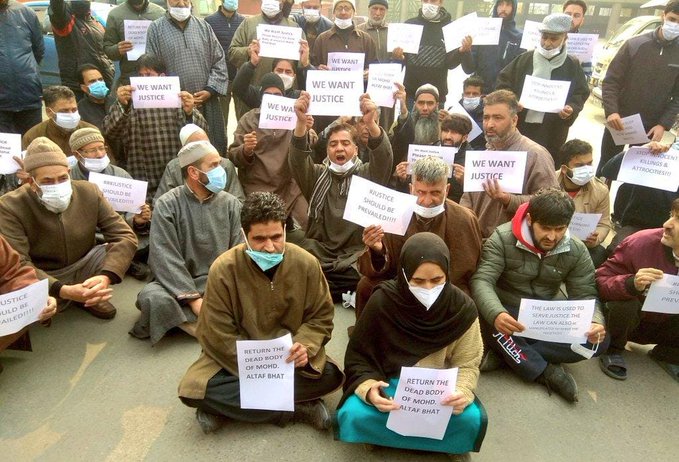 Srinagar, Nov 18 : Several people were detained by police last night as later swooped on relatives of the "civilians" killed in Hydrepora "encounter".
Last night, a contingent of police swooped on the protests comprising relatives of the civilians demanding bodies of their kin. The police action followed after power supply to the area was cut and in the darkness, police bundled the mail members while female members kept shouting for their release and "justice", reports  said.
The families were sitting on a sit-in and after around 12 hours, police contingent came and detained the protesters who former Chief Minister and vice president of National Confernce Omar Abdullah said were "reasonable in their demands & dignified in their conduct."
The protesters kept on shouting slogans "we want justices, and "Lashun par haq kis ka hai, warisun ka hai (who have right on the bodies of dead, only family members)" at the press colony in Srinagar to press for their for returning bodies of businessmen, Altaf Ahmad Bhat and Dr Mudasir Gul, who were killed on Monday evening at Hyderpora.
Niece of Altaf Bhat, journalist Samina Bhat stood near the police vehicle and started shouting: "Release my brother. We are not terrorists. Don't drag my father." Her father Abdul Majeed, who is elder brother of Altaf Bhat, was on the ground pleading with the police to kill him too. The police also took Saima Bhat along..
"This is the naya Kashmir of 2021. This is how the J&K police fulfils @PMOIndia promise to remove "dil ki doori & Dilli se doori. It's outrageous that the J&K administration did not allow the families to conduct a peaceful sit in protest," former Chief Minister Omar Abdullah said in a tweet, commenting video in which police is seen swooping down on the protesters.
"I've rarely seen families who have been wronged conduct themselves with such dignity. They have been reasonable in their demands & dignified in their conduct. The result of this is visible for all to see as the police drags them away in the dead of night," he said, adding, "LG @manojsinha_ should reach out to these families, hear them in person & then give them the bodies of their loved ones. It's the only right thing to do, it's the only humane thing to do."
Former minister and chairman of JKPCC Sajad Gani Lone tweeted: "What on earth Has happened to the administration. Y can't they present a human face. Y r they so intent on presenting a v inhuman and ugly face."
Former Chief minister of erstwhile PDP-BJP alliance Mehbooab Mufti said that instead of handing over mortal remains of the innocent civilians, police has arrested the family members for demanding the bodies of their loved ones.
"Unbelievably ruthless & insensitive. Least they can do is return the mortal remains immediately," Mehbooba said. gns