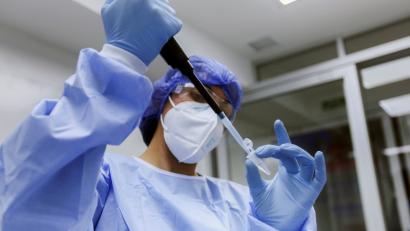 Srinagar, nov 2): Jammu and kashmir reported 110 fresh covid-19 cases even as two more persons succumbed to the virus in the last 24 hours, officials said on tuesday.
among the fresh cases, 18 were reported from jammu division and 92 from kashmir, taking the overall tally to 33245
there were two deaths due to the virus during the time and all victims belonged to kashmir valley. so far 4438—2176 in jammu and 2262 in kashmir—have died due to the pathogen, they sai
giving district wise details, the officials told gns that srinagar reported 42 cases, baramulla 21, budgam 5, pulwama 01, kupwara 4, anantnag 4, bandipora 3, ganderbal 11, kulgam 0, shopian 1, jammu 4, udhampur 2, rajouri 5, doda 1, kathua 0, samba 0, kishtwar 0, poonch 5, ramban 5 and reasi
a number of these cases were confirmed at cd hospital's diagnostic laboratory and include male (24) (na) from qamarwari, female (20) (na) from smhs sgr, male (30) (na) from chanpora sgr, male (38) (na) from baramulla, female (14) (na) from rawalpora, female (75) (na) from rainawari, male (80) (na) from hyderpora, male (60) (na) from hmt, male (66) (na) from chanpora sgr, female (32) (na) from harwan, female (90) (na) from zakura, male (88) (na) from nawakadal, female (85) (na) from nawakadal, male (34) (na) from baspora, female (25) (na) from hyderpora, male (22) (na) from zakura and male (66) (na) from habak shanpor. Moreover 91 covid-19 patients recovered during the time, 15 from jammu division and 76 from kashmir, they said.
So far 327103 patients have recovered, leaving active case tally at 916—101 in jammu and 815 in kashmir.
They said there was no new confirmed case of mucormycosis (black fungus) reported today. so far 49 black fungus cases have been confirmed in j&k, the officials said.
The government also informed that 99958 doses of covid-19 vaccine were administered during the time in j&k. (gns)