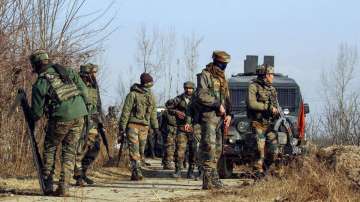 Poonch, Oct 25 : The ongoing anti militancy operation in Nar forest area of Bhata-Dhurian in Mendhar sub-division of Poonch entered 11th straight day on Monday amid heavy exchange of fire.
Officials said that the encounter had started in the area on Thursday last week in which four army personnel have lost their lives so far.
"For 11th day on Thursday, the entire area of Nar and Bhata-Dhurian remained under cordon and forces carried out an anti militancy operation in the area," the officials said, adding that the fresh gunfire took place in the area and heavy firing continued for over three hours.
"The national highway stretch between Bhimber Gali and Jarran-Wali Gali also continues to remain closed for 11th straight day," the officials said.
Pertinently, on Sunday, a jailed militant Zia Mustafa got killed while three security forces personnel got injured in the firing that took place at the encounter site.
Militant Zia was taken to the encounter site for some physical identification purpose, according to police, and was on ten day police remand from Kot Bhalwal jail. kno