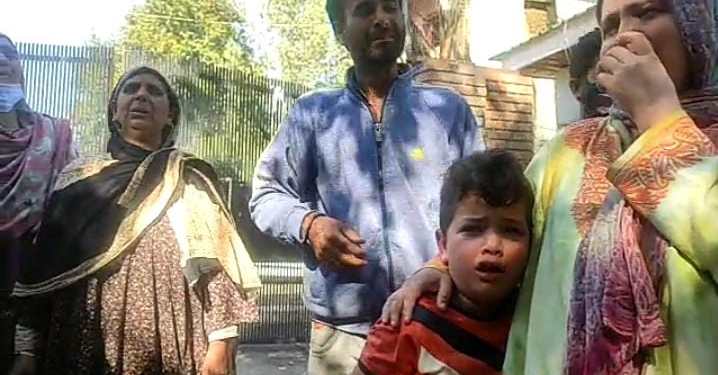 Budgam, Oct 20: A family from Pakharpora area of Central Kashmir's Budgam district Wednesday staged a strong protest against the arrest and subsequent shifting of one of their members to outside Kashmir Jail.
The family members including little kids assembled outside the office of District Development Commissioner Budgam. Amid hue and cry, the family members demanded the release of Mehrajuddin Kumar son of Ghulam Ahmed Kumar who according to them was running a bakery shop and has nothing to do with militancy.
The little kids were seen crying demanding the release of their father. "He is the father of two little kids. Where shall I go now. He should be released," the wife of incarcerated man told reporters.
Another family member said that he was called by police post Pakharpora three days ago and when they visited the police chowki, they were informed that Mehrajuddin has been shifted to police station Charar-e-Sharif. "We visited the office of higher ups but received a call that he has been booked under unlawful activities and shifted to outside Kashmir Jail," he said.
The family members said that Mehrajuddin was released on bail in January this year and now he has been arrested again.
The family members while vouching for the innocence of arrested man demanded his release. "We won't afford a meeting with him outside Kashmir Jail," they said.
Official sources said that Mehrajuddin Kumar has been shifted to Kot Balwal Jammu Jail under Public Safety Act. (KNT)