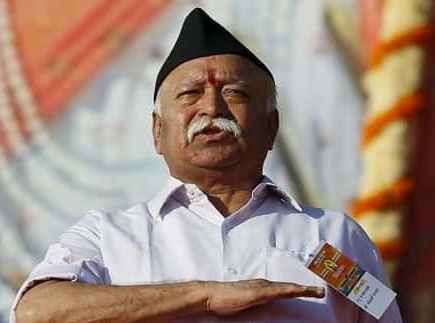 Jammu, Sep 30: The Rashtriya Swayamsevak Sangh (RSS) chief Dr Mohan Bhagwat reached Jammu on Thursday on a four-day long visit.
The visit of RSS chief holds significance as it was his first visit to J&K post abrogation of Article 370 and 35A and reorganization of state into Union Territory.
Though the Sangh maintained that Dr Mohan Bhagwat's stay at Jammu remain an organizational matter only and not to do with any political activities but experts said that Baghwat will participate in many programmes and he is scheduled to meet intellectual think tanks and several politicians from BJP.
"RSS never openly support political parties but it's inclined towards right wing BJP is an open secret," a political expert said. "The Sangh chief definitely convey his message to its large cadre for making cozy atmosphere for BJP candidates."
Earlier, in the year 2016, he had visited Jammu.
The RSS official statement said that Dr Bhagwat will review the ongoing projects initiated by the RSS in Jammu and Kashmir in various fields including Sewa, education, public awareness, health, rural development, ecology, water conservation, social equality, etc.
He will also interact with Pracharaks of the Union Territory as well as with selected dignitaries.
He will participate in many programmes including attending a function at Jammu University on October 2, Mahatma Gandhi's Birth Anniversary. kno