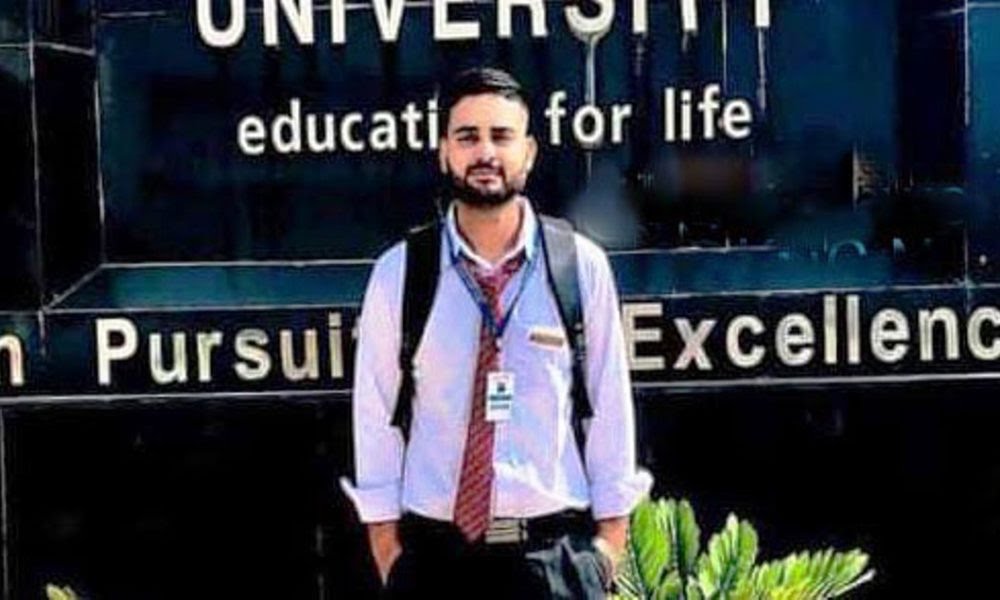 Budgam: The body of a 20-year-old youth, a student of 3rd semester of BSC radiology, from Budgam was found hanging from solar plant on terrace of college hostel in Punjab.
According to the family of the deceased Umer Dev, son of Abdul Ahad Dev of Chewdara Beerwah Budgam, they received information that he was found hanging from solar plant atop terrace of the hostel of the college— RIMT University Ludhiana Road Gobind Gand Mandi Punjab.
The Brother of the youth left for Punjab as soon as he heard the tragic news, the family said, while police officials said that some family members of the youth have left for Punjab and the police is collecting further details.
Pertinently, on Saturday, a 40-year-old Kashmiri shawl seller belonging to north Kashmir's Handwara was found dead in Haryana.
Mohammad Shafi Shah, son of Mohammad Satar Shah, a resident of Lillam in Ramhall Handwara, as per the family was found dead at his rented accommodation at Shalferi Golah district Keithal near Sher-e-Punjab Dhaba in Haryana.
"He was working as a shawl seller there for last seven years", the family had said. They later left for Punjab to retrieve the body back home to perform the last rites.
Meanwhile tTheJammu and Kashmir National Conference Party President and Member of Parliament from Srinagar, Dr. Farooq Abdullah has expressed profound shock and grief over the his death.
Expressing his anguish over the incident, Dr Farooq expressed sympathies with the bereaved family members of the deceased, who as per the family has been a student of RIMT University Gobindgarh, Mandi Ludhiana Road.
"I received the news with profound shock and grief. It's heart rendering to learn about the tragic death of a promising third year BSC Radiology student. I share in the grief of the bereaved family members of the victim, particularly his parents, whose loss cannot be put into words. I share their grief and demand a time bound probe into the incident," he said in a statement.
The party president also took up the matter with the authorities in Punjab and demanded that the exact cause behind the incident be ascertained forthwith.
Meanwhile the Party President and Vice President have expressed deepest sympathies with Reyaz Ahmed, an employee at Party HeadQuarters Nawa-e-Subha, Srinagar on the accidental death of his twelve year old Child.
The duo, while sharing in grief of the bereaved, particularly Reyaz Ahmed prayed for strength to them to bear the inconsolable loss. Party General Secretary Ali Muhammad Sagar, Provincial President Nasir Aslam Wani, Spokesperson Imran Nabi Dar, Provincial Secretary Showkat Ahmed Mir, Media cell and general administrative and managerial staff have also expressed unison with the bereaved family, particularly Reyaz Ahmed on the irreparable loss. kno