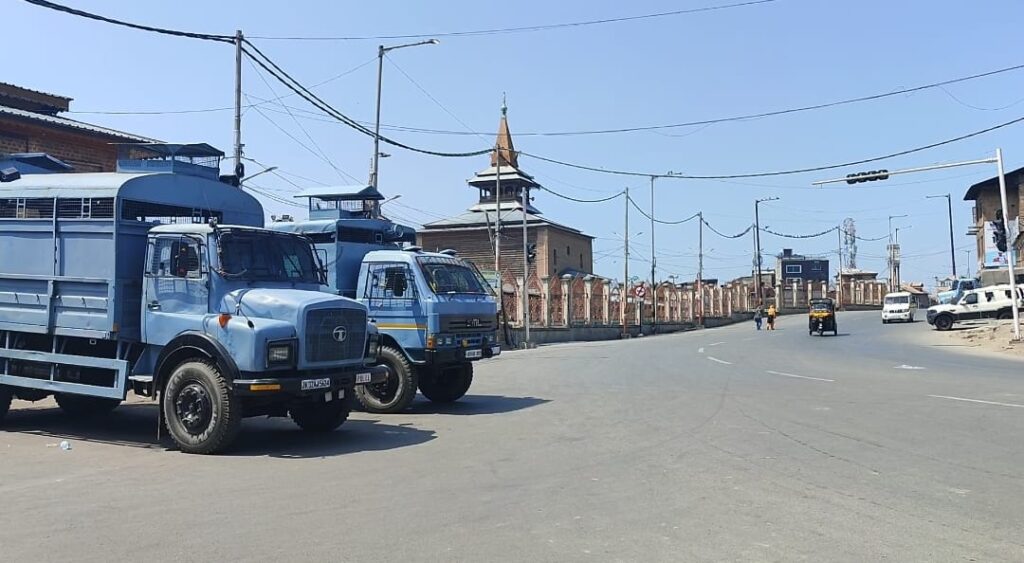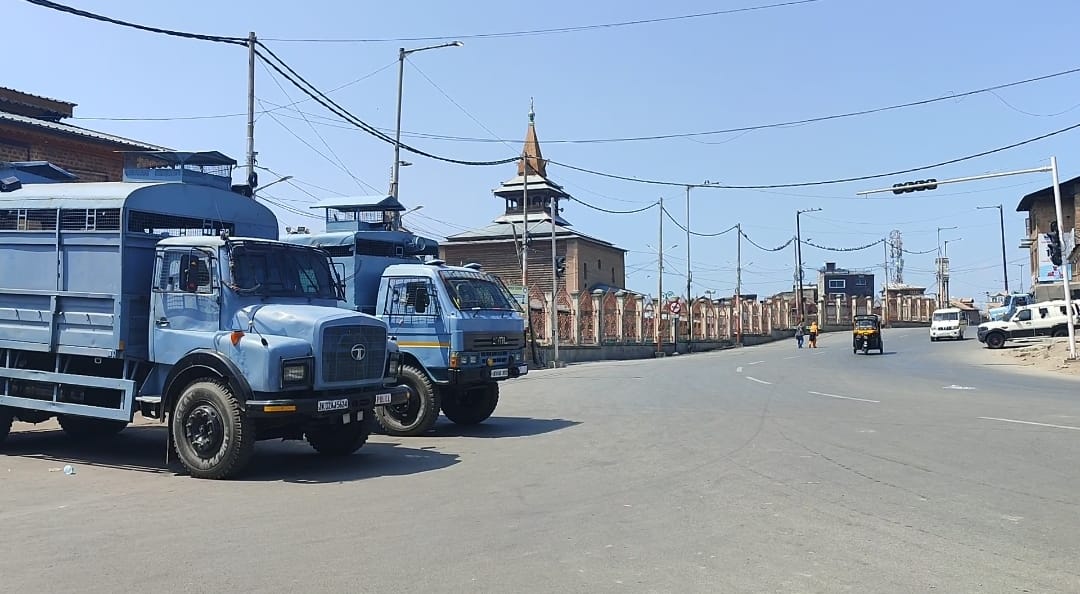 Srinagar, Sep 04: Curbs on the assembly of people remained in force in most parts of the Kashmir Valley for the third consecutive day on Saturday after the death of veteran Hurriyat leader Syed Ali Shah Geelani on Wednesday late night.
An official said  that certain restrictions remained in place for third day today, while voice calling and broadband internet services were restored on late Friday night after remaining suspended for two-days.
He, however, said that mobile internet services  continue to remain suspended for third consecutive day today as a precautionary measure.
The official said that mobile internet services are likely to be restored on Sunday afternoon.
Notably, Syed Ali Shah Geelani, 91, died at his home in Hyderpora area of Srinagar on Wednesday night after a prolonged illness.
He was quietly buried in the premises of a mosque near his residence in the wee hours of Thursday, where only his relatives and a few neighbours were allowed to take part in his funeral.
Following his death, restrictions were imposed in the Valley as a precautionary measure including suspension of voice calling and internet services.
Meanwhile, restrictions on assembly of people remained in force in most parts of the valley but curbs on movement have been eased in some parts today.
He said that roads leading to Geelani"s residence here remained sealed with barricades being erected to stop the movement of people.
The official said that security forces have been deployed in strength in Srinagar areas and elsewhere to maintain law and order. kns
Situation peaceful, dozens of miscreants taken under preventive custody: Police
Few Local media persons, channels spreading fake news, appropriate action against them: IGP Kashmir
Jammu and Kashmir police Saturday said that situation across Kashmir remained peaceful while as dozens of miscreants were taken under preventive custody.
In a statement,  police said that today the situation across Kashmir remained peaceful and no any untoward incident was reported from anywhere except one minor pelting in Narkara area of Budgam.
"Several preventive measures have been taken to maintain Land and order situations including preventive arrests of dozens of miscreants so far. Traffic was seen plying normally and most of the shops remained open in various parts of the valley," the police said.
It said that the cooperation of general public helped police & security personnel deployed on ground to maintain the law and order. "In view of the peaceful situation, mobile internet services shall be restored after reviewing the overall security situations while as cellular service (voice call) and broadband of all TSPs were already restored yesterday," the police said.
Meanwhile, IGP Kashmir Vijay Kumar appealed to general public not to pay any heed to the rumours being maliciously spread by the anti-national elements especially across the border with an objective to disturb the prevalent peaceful atmosphere in the valley. "Several social media platforms including Kashmir Media Service which are running from Pakistan have been trying to spread fake news and videos to instigate miscreants to disturb situations.
Even a few local media persons and channels have been found spreading fake news. We are observing it, maintaining evidence and appropriate actions shall be taken against them," the IGP said, adding that "Such elements are advised not to spread fake news without consulting law enforcement agencies. Moreover, all the police and security forces personnel have been sensitized regarding facilitating students appearing in different examinations."kno