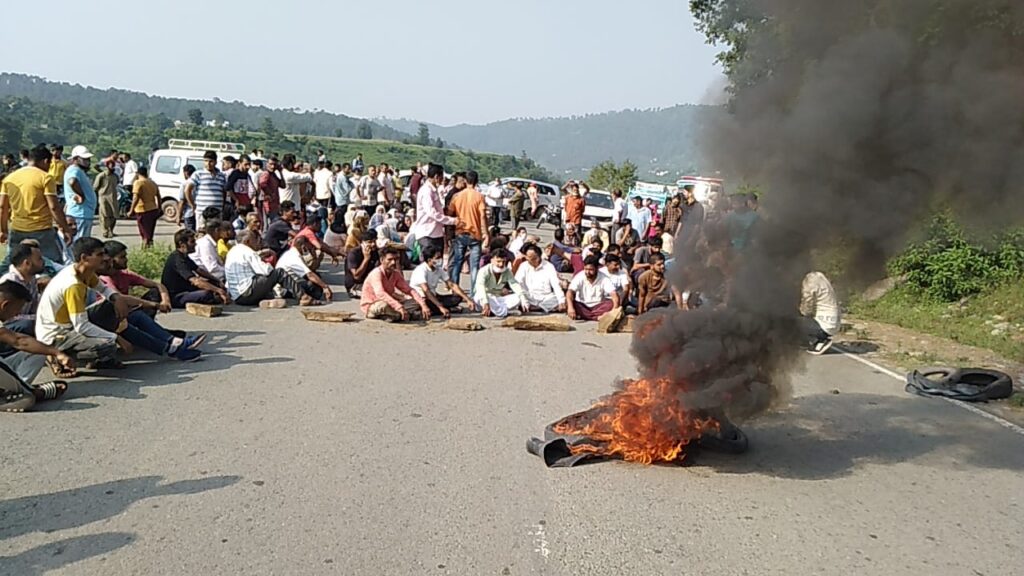 Poonch, Aug 11,: The Jammu-Poonch highway was blocked on Wednesday morning after protest sparked over and alleged murder of a man in Rajouri district of Jammu and Kashmir.
Police said that some unidentified persons during wee hours, attacked on Ankush Bakshi at his resident at Panchayat Chakli, Block Dhangri, Chingus, Rajouri.
"The body was found in a pool of blood," said police.
Police Post Incharge, Chingus, Ashish Choudhary confirmed the incident asserting, "locals are staging protest and have blocked the road."
Locals hit to roads, blocked the traffic demanding stringent action against the culprits.
The protesters amid sloganeering burnt down tyres and didn't allow vehicles to pass on the road.
A police official said that a case has been registered and investigation set into motion. knt
Police Forms SIT
Police formed a Special Investigation Team to investigate into the "brutal murder" of a 28-year-old youth.
"Today on August 11, 2021, information was received that during the night, some unknown persons entered the house of one Bachan Lal (at) Chakli and attacked his son, Ankush Bakshi, with sharp edged weapons, who died on the spot as a result of the injuries sustained," a police official said in a statement.
Based on this, police said, a case (FIR No. 538/20210 under section 302 and 458 IPC has been registered at PS Rajouri and investigation has been started.
"A Special Investigation Team (SIT) headed by DySP headquarters, Rajouri has been constituted for speedy investigation of the case on merits," the police added.