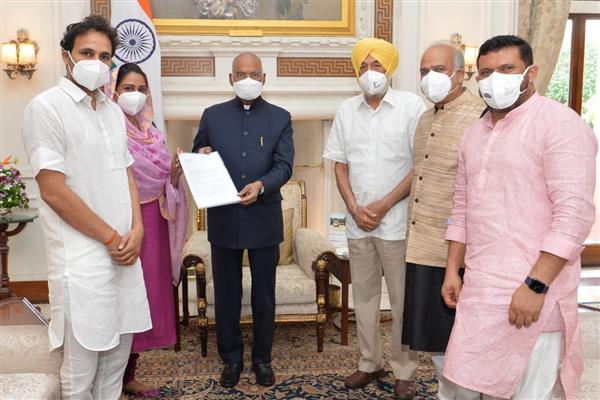 Srinagar July 31: A delegation of opposition parties Akali Dal, NCP, BSP and NC comprising of Smt Harsimrat Kaur Badal, Member of Parliament and former Minister, S. Balwinder Singh Bunder Member Of Parliament , Hasnain Masoodi Member of Parliament, Ritesh Panday Member of Parliament and leader of BSP in Lok Sabha , Mohamad Faizal Member of Parliament , today called on President at Rashtrapati Bhawan and sought his intervention as custodian of democracy and constitution, in ensuring that Parliament functions smoothly and has a debate on Pegasus, farmers agitation against farm laws and other important issues confronting the country and deserving immediate discussion in the Parliament.
The delegation submitted a written memorandum to the President stating that the signatories to memorandum were under constitutional obligations to bring to the notice of President that by not agreeing to a discussion on important issues identified in the memorandum, the democracy was being subverted and public interest compromised.
The delegation expressed its displeasure that while scores of farmers lost their lives during the current agitation against farm laws, the government was in a denial mode, very brazenly insisting that not a single farmer had died in the agitation.
The delegation demanded constitution of a Joint committee of the members of Lok Sabha and Rajya Sabha to facilitate a dialogue between stakeholders and help resolve the issue to the satisfaction of the agitating farmers.
The delegation also requested the President to meet the families of the farmers who lost their lives during current agitation so the feeling of being ignored and let down is dispelled.
The delegation reiterated that the opposition was ready and willing to help run the Parliament provided the government agreed to discuss the snooping, farmer laws and other important issues.
Hasnain Masoodi, MP demanded that political aspirations of people of Jammu and Kashmir be addressed and statehood restored without any further delay.
He impressed upon that once the restoration of statehood was assured on the floor of the house and thereafter promised from the ramparts of the Red Fort there was no reason to delay and defer the decision any further in the name of return of normalcy.
He cautioned that Jammu and Kashmir was increasingly becoming a flash point and to save the situation it was necessary to redress the long political political grievances of the people. kns