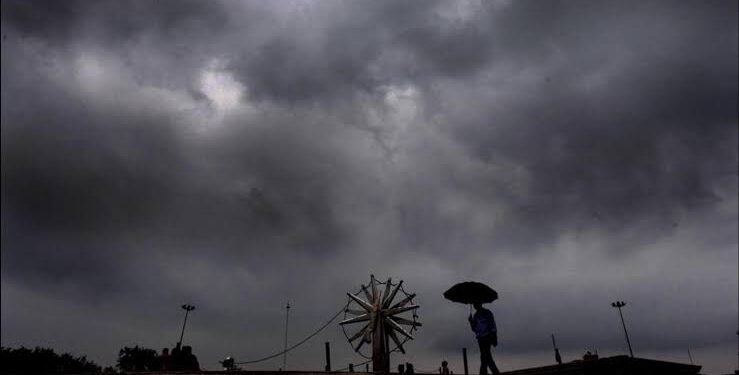 Srinagar, Jul 28: At least eight persons died and 20 persons are feared missing while several structures got damaged after cloudbursts triggered flash floods in different parts of Jammu and Kashmir amid incessant rains on Wednesday.
The isolated places across Jammu and Kashmir received heavy rainfall since last evening, bringing down the soaring temperature in the Union Territory.
According to the reports seven persons have died in Kishtwar district today after a cloud burst triggered flash floods in Honzar locality of Dacchan area in the district.
The officials said that 17 persons were rescued during the rescue operation launched by Army, Police, SDRF and locals, adding that 15-20 persons are feared missing.
"Out of 17 persons rescued today, five have been referred to District Hospital Kishtwar as their condition was critical," they said.
They said that the rescue operation has been put on halt due to incessant rainfall and the evening, adding that the operation will be launched again on tomorrow morning.
In Rajouri district, one non-local labourer got washed away in flash floods today while another was rescued, they said.
A non-local unidentified labourer from Chattisgarh got washed away in flash floods, officials.
Meanwhile, Deputy Commissioner (DC) Rajouri, Rajesh K Shavan said that the administration has sounded high alert as the situation is very grim since the morning.
The district administration Poonch has also sounded alert after the water level got increased in all the water bodies in the district.
The situation remained normal in other Jammu districts throughout the day where heavy rainfall was recorded since July 27.
In South Kashmir's Anantnag district, around 100 houses and other structures suffered minor or heavy damage due to windstorm, heavy rainfall and falling of trees in the district.
According to the details, the damage mostly occurred in Kathoo, Wapzoo and other areas of Bijbehara district. The nomadic people have also lost their cattle during the inclement weather conditions today in upper areas of Pahalgam and Sirhama.
Reports reaching here said that the horticulture sector has also suffered damage today.
In north Kashmir's Bandipora district, a residential house and a Masjid were partially damaged after a cloudburst hit the upper reaches of Aloosa village, triggering flash floods.
Officials said that the cloudburst triggered flash floods in Aloosa, resulting in partial damage to a residential house, Masjid, while link roads were inundated.
They said that, however, there was no loss of life reported in the incident, while a foot bridge in the area got washed away.
The officials said that teams have been sent to the area to assess the damage.
A cloudburst hit near the Holy Amarnath Cave shrine in Central Kashmir's Ganderbal district, officials said here, while stating that there was no loss of life or injury reported in the incident.
An official said that there was loss of life in the injury report as no Yatris were present at the cave at the time of the cloudburst near the cave.
He said that two SDRF teams are already at the cave while an additional team of SDRF has been deputed from Ganderbal district.
Meanwhile, the civil administration as well as police had requested the people of Gund and Kangan area to stay away from river Sindh.
"In view of incessant rains and reported cloud burst at holy cave shrine, the general public in areas of Gund and Kangan is requested to stay away from river Sindh, as there may be sudden increase in flow of water," SDPO Kangan said.
Meanwhile, the rest of the districts heaved a sigh of relief from scorching heat after light rains lashed plains and other places since last evening.
In some areas in Kupwara and others districts, the rainfall inundated the roads and streets, causing huge inconvenience to the locals.
Moreover, the local Meteorological department (MeT) here has predicted flash floods, landslides and mudslides in wake of the forecast of wet spell till July 30.
"There is a possibility of rainfall at isolated places across Jammu and Kashmir from 28-30," Director MeT, Sonum Lotus said.
Meanwhile, the J&K LG Manoj Sinha announced an ex-gratia of Rs 5 lakh each for the next of kin of those who lost their lives in the tragic cloudburst in Kishtwar. The grievously injured would be given Rs.50,000 each and Rs.12,700 under SDRF shall also be disbursed, officials privy to LG's announcement said adding that , relief under SDRF for loss of houses, utensils, clothing, house-hold goods, cattle, cattle shed, loss of agricultural land etc. shall also be provided by the Deputy Commissioner, Kishtwar. "The J&K government will do everything possible to support and protect the affected families," the officials said. kno