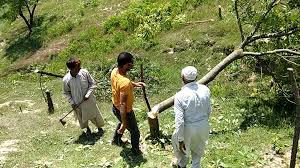 Srinagar, Jul 14: The Jammu & Kashmir's Forest department has retrieved more than 27000 kanals of forestland from 'illegal occupants' in the past three years.
Documents reveal that the department has got 27513. 16 kanals evicted from encroachers since 2018-19.
In 2018-19, 8416 kanals have been retrieved from illegal occupants, 4912.1 kanals in 2019-20 and 14184.16 in 2020-21.
Apart from retrieving 27000 kanals in the past three years, the department has also evicted encroachments from 2837 kanals of forestland from April 1, 2021 to June 10, 2021.
The document also claims that illegal entries of 47934 kanals of forestland have been cancelled till June 1, 2021.
According to the documents, the cancellation of the illegal entries of forestland in the Revenue records has been taken up by the department with the concerned deputy commissioners.
"With the concerted and joint efforts of the functionaries of the Forest department and the Revenue authorities, the illegal entries of about 47934 kanals and 12 marlas of forestland have been cancelled as on June 1, 2021," reads the document.
It is pertinent to mention that the Forest department has taken different administrative and legal measures in the past three years to prevent encroachment of forestland and retrieve the land from illegal occupants. kno