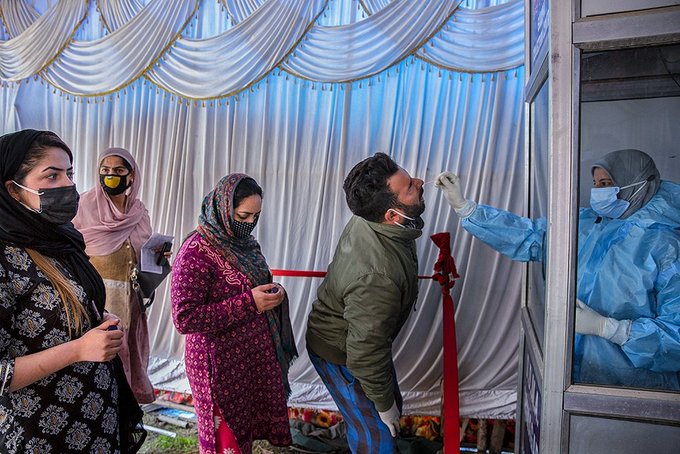 Srinagar, Jul 03: The Jammu and Kashmir Union territory on Saturday witnessed 02 deaths due to Covid-19 while as 338 fresh positive cases were also reported, taking the number of total active cases in the UT to 4,048.
With 02 more deaths the death toll in the UT has reached to 4,3235 and 338 fresh positive cases reported on Saturday has pushed the tally of positive cases to 316,629
Of the exact number of 316,629 cases, 196,677 are from Kashmir division and 119,952 from Jammu division. Officials said that among 338 new cases, 238 belong to Kashmir division while as 100 are from Jammu division, adding that the total number of positive cases in Kashmir division have reached to 196,677 including 192,161 recoveries and 2,222 deaths while as total number of positive cases in Jammu division have reached to 119,952 including 116,085 recoveries and 2,113 deaths.
The officials said that the total number of active cases in Jammu and Kashmir are 4,048 including 2,294 from Kashmir division and 1,754 from Jammu division.
With 497 more recoveries, the tally of total recoveries in Jammu and Kashmir has reached to 308,246 which is 97,35 percent of the total cases.
"Cases tested positive in J&K include 96 from Srinagar, 19 from Baramulla, 20 from Budgam, 16 from Pulwama, 19 from Kupwara, 19 from Anantnag, 10 from Bandipora, 21 from Ganderbal, 16 from Kulgam and 02 from Shopian in Kashmir division while as 100 from Jammu division include 14 from Jammu, 04 from Udhampur, 12 from Rajouri, 42 from Doda, 03 from Kathua, 00 from Samba, 14 from Kishtwar, 07 from Poonch, 04 from Ramban and 00 from Reasi," officials disclosed.
Meanwhile, authorities on Saturday said that one fresh case of Mucormycosis popularly known as black fungus was reported in the UT and the total cases of Mucormycosis have reached 30.
Out of 02 deaths reported today, 01 died in ASCOMS and 01 in GMC Baramulla.
As per officials figures, 70,217 positive cases including 829 deaths and 68,604 recoveries are from Srinagar, 23,309 including 279 deaths and 22,767 recoveries are from Baramulla, 22,625 including 22,201 recoveries and 204 deaths are from Budgam, 14,913 including 14,554 recoveries and 192 deaths are from Pulwama, 13,852 including 165 deaths and 13,462 recoveries are from Kupwara, 16,135 including 15,778 recoveries and 203 deaths are from Anantnag, 9,322 cases including 9,108 and 100 deaths are from Bandipora, 9,641 including 9,380 recoveries and 76 deaths are from Ganderbal, 11,105 including 10,817 recoveries and 116 deaths are from Kulgam and 5,558 including 5,490 recoveries and 58 deaths are from Shopian.
In Jammu division, 52,425 including 50,786 recoveries and 1,135 deaths are from Jammu district, 11,191 including 10,974 recoveries and 131 deaths are from Udhampur, 10,733 including 10,394 recoveries and 220 deaths are from Rajouri, 6,894 including 6,542 recoveries and 117 deaths are from Doda, 9,215 including 9,040 recoveries and 149 deaths are from Kathua, 7,087 including 6,916 recoveries and 119 deaths are from Samba, 4,507 including 4,317 recoveries and 43 deaths are from Kishtwar, 6,117 including 5,820 recoveries and 92 deaths are from Poonch, 5,859 including 5,684 recoveries and 64 deaths are from Ramban and 5,924 including 5,612 recoveries and 43 deaths are from Reasi.
As per the daily information bulletin 2,457,566 persons in Jammu and Kashmir are under observation while 11,644 persons have been kept under home quarantine besides that 4,048 persons are in isolation.
According to the bulletin, 2,203,109 persons have completed the surveillance period and 234,430 persons are under home surveillance besides that so far results of 10,138,591 samples are available. Out of 10,138,591 the number of samples tested negative stands at 9,821,962 while as 316,629 have tested positive, among them 4,048 persons are active, 308,246 persons have recovered and 4,335 persons have died.