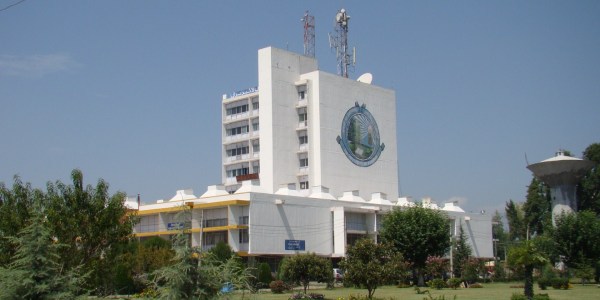 Kupwara, Jul 1: After missing several deadlines since the layout was approved in 2011, the Kashmir University's Kupwara campus is finally going to be operational for academic activities for the current session, to facilitate the student community here in the frontier district.
The Campus is offering admission for two 5-Year Integrated courses including; B.Sc-M.Sc Physics and B.Sc-M.Sc Renewable Energy Studies, applications for which have been made already available. Aspirants can apply online for any of the two courses' from July 1 up to July 12 (2021).
The first Nodal Officer for the Campus, Dr. Manzoor Ahmad Mir, said that the announcement to set up a satellite campus in Kupwara district was made by the varsity administration in 2008 to make higher education easily accessible to students of the border district in north Kashmir and the land acquisition process to build the infrastructure got started in the year 2011 with the visit of Honourable Vice Chancellor Prof. Talat Ahmad in 2011 to the Campus.
"I remained as Nodal officer from September 2011 up to 2013, and thereafter Professor Farooq Ahmad Mir, who currently is Director Admissions, took over from me and I was made Coordinator, however currently it is Professor Parvaiz Ahmad from the Department of Geography and Disaster Management who is looking over the Campus as In-charge Director", Dr Manzoor said.
Incharge Nodal Officer Prof Parvaiz said that varsity acquired a land encompassing approximately 500 kanals from the State Forest department and State Revenue Department at Wayne, just adjacent to the Armed police headquarters following which few buildings were built.
"Construction of Academic Block and a Hostel for students has been already completed and made operational, besides electricity and water supply has been made available to the campus and the fencing of the campus is in process. One more academic block has already been approved by the Buildings committee this year and the request for construction of 8 staff quarters is in process", Prof Parvaiz said.
There are already five people working as non-teaching staff in the Campus, with a library and an office, he said.
At least ten faculty members including eight Assistant and two Associate Professors are to be appointed, for which an advertisement will be shortly issued, Prof. Parvaiz said.
"There will be two courses which will be run from this academic session, one will be the Integrated 5-year course of B.Sc – M.Sc. Physics and another Renewable Energy Studies" the announcement for which was made by the Honourable Vice Chancellor University of Kashmir during his visit to the Campus in the month of March, he said.
The University authorities over the period have realised to make it a specialized specialized campus which will offer integrated courses as our Honourable Vice-Chancellor Prof. Talat Ahmad is more interested to make it a world class campus given the location of the venue – its scenic surroundings and availability of resources – and infrastructure as such can be built of 'that strength', Dr Manzoor said.
When asked which courses are expected to come at the Campus, Dr Mir said that integrated Skill based courses with employability potential will be introduced as there is more focus on Skill-based courses in National Education Policy 2020 however whatever courses introduced would be primarily focused to generate employment. However for now it is only the two said courses and few more courses are likely to be initiated in upcoming academic sessions, he said.
The focus of the University Administration is primarily on starting the academics from this session with whatever staff and infrastructure available, he exhorted.
"I would urge people to take the development in a good spirit, rest we assure you that the Campus will be having a good faculty with availability of fine infrastructure as well", Dr Mir added.
The Incharge director of the campus Prof Parvaiz Ahmad in the meantime said that the talks with the district administration for an exclusive road to the University campus from Kupwara town are in final stage and he is hopeful that the survey for the same will be done soon.
Meanwhile Dr. Manzoor and Prof. Parvaiz have unequivocally thanked the university administration especially HVC Prof. Talat Ahmad, Dean Academic Affairs Prof. Shabir Sahib, Registrar Dr Nisar Ahmad Mir and other university authorities for their active role in making the Campus functional. gns