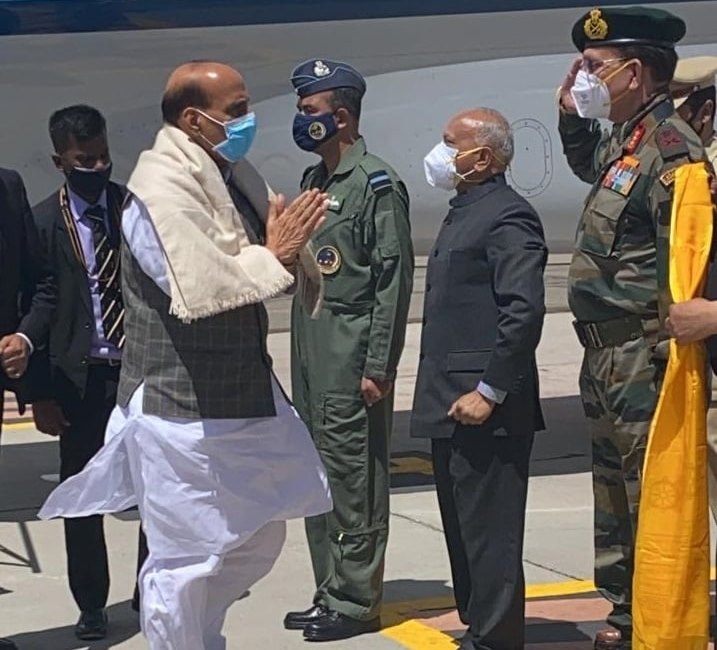 Srinagar, June 28: Defence minister Rajnath Singh said that the bifurcation  of J&K and Ladakh as two separate Union territories were strong and visionary steps which have bolesterd the national unity.
On the Government's decision to bifurcate Jammu & Kashmir and Ladakh as two separate UTs, Singh stated, "that the strong and visionary steps have bolstered national unity, led to major reduction in terrorist activities sponsored from outside and opened new avenues for the socio-economic development of the people".
On August 05, 2019, New Delhi broke the erstwhile state of Jammu Kashmir and Ladakh into two separate union territories after it abrogated article 370 and 35 A of the Indian Constitution.
Singh made this remarks on on the 2nd-day of his visit to Ladakh during  a ceremony in which he inaugurated 63 bridges, built across the country, today.
In a virtual program from Kyungam in Leh district, Rajnath Singh inaugurated 63 Border Roads Organization bridges in eight states in the country.
Lauding the Indian Army for displaying exemplary courage during the Galwan Valley incident in 2020,  Singh  paid tributes to the "bravehearts who laid down their lives in the line of duty".
He called for dialogue with neighbouring countries to resolve disputes, maintaining that "India is a peace-loving nation which does not believe in aggression, however if provoked, we will give a befitting reply".
He assured the nation that the Armed Forces were are fully prepared to deal with any situation.
Singh highlighted the reforms undertaken by the Government to strengthen the security at the borders, increase jointness among the Armed Forces and make them self-reliant.
"We are moving fast towards building a safe, strong and prosperous nation in every way," he said.
The string statement has come after China had said that  it does not recognise the Union territory of Ladakh as it was "illegally set up by India" last year on October 13.
Tensions are rising in Ladakh sector as both countries of mobilised tens of thousands of soldiers facing each other in the cold mountainous terrain.
On June 15, 2020, around 20 Indian soldiers lost their lives during clashes with the Chinese army in the Galwan valley region in eastern Ladakh,. Later China accepted that it also lost its four soldiers during the deadly clash.
According to Indian media reports, China had occupied 1000 Sq Km of territory on the Indian side of Line of Actual Control.