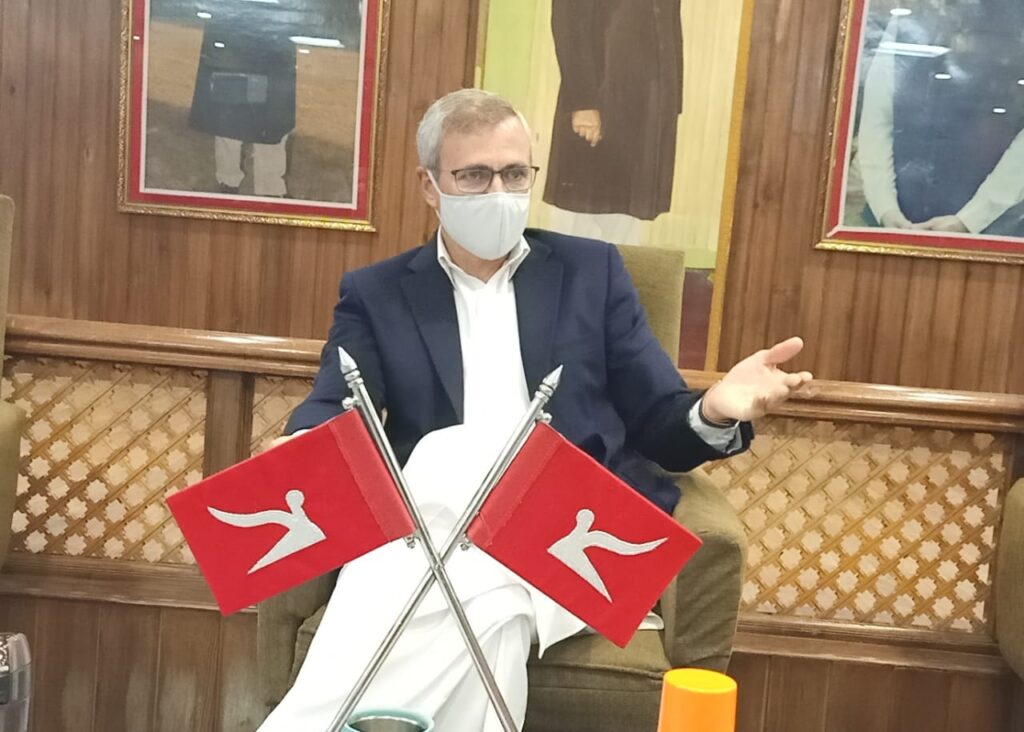 Srinagar 26 June: Jammu and Kashmir National Conference Vice President Omar Abdullah said that nothing was discussed in All Party meet outside the agenda of people's alliance for Gupkar Declaration.
Talking to reporters at his residence, Omar said that PAGD never accepted decision taken on August 05 and will PAGD will fight Peacfully, Constitutionally, legally and will do what it takes to Undo it.
"Where PAGD deviated from its agenda? There has been no statement from any of the party who is PAGD member that they accept August 05 decision and move forward", he added.
Omar further said that at All Party meet, "we said that people are disappointed and didn't accept decision".
"We don't want to betray people by saying them that we are seeking reversal of August 5 from Modi Sahib, because it would be a betrayal. Those who snatched from us, shall we betrayal people by saying we are getting it back from them"?, Omar questioned.
Omar also said that both Mehbooba Mufti and Farooq Abdullah said that it took BJP 70 years to fulfill its agenda of revoking article 370 in Kashmir and if it takes us 70 weeks or 70 months, or whatever time it takes, "we will not retract from our mission".
On being asked that until Article 370 is restored, will you not be contesting elections personally, he said that "I am not sitting personally here. I represent party adding that "I have no intention of contesting elections for now and party decision is there at its own place."
Replying a question that you and other participants talked in individual party capacities and not as PAGD, Omar said that they were not invited on the basis of alliance and added that had it been so, only one would have been invited.
Replying a query on participation of National conference in Delimitation Commission, Omar said that the party has authorized Dr Farooq Abdullah to take the view as and when necessary.
"There has been no fresh approach from delimitation commission as of now, when delimitation makes an approach to Farooq sahib, he will take view on it", he added.
Farooq Abdullah, who was also briefing reporters first time since All Party meet said that there is level of mistrust and that mistrust has to be removed by Government of India and you have to decide how they will do it.
Let me make it clear.I told them that "we were promised plebiscite by then Prime Minister and were promised autonomy on the floor of house.where is it?", Farooq said adding that let's not jump and see if the centre was ready to remove mistrust existing on the ground in Jammu and Kashmir. kns