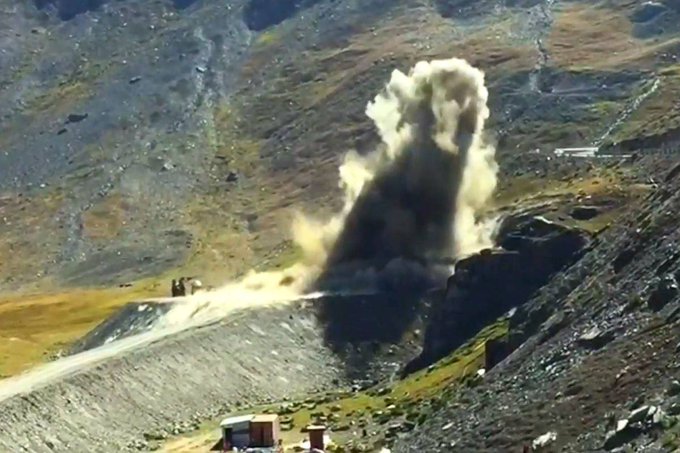 Srinagar, Jun 17: The trial run on Qazigund-Banihal tunnel along national highway was conducted successfully, official said Thursday.
Top officials said that a two-hour long trial run through two tube four lane tunnel was conducted successfully on Wednesday evening and no disruptions were faced during the run.
He said that tunnel is now complete and will be thrown open for public in next few weeks.
"The Tunnel has missed around seven deadlines, however, now work on the same has been now completed and very soon people will hear a good news," he said.
In 2011, the National Highway Authority of India (NHAI) commissioned construction of two tunnels namely Chenani-Nashri and Qazigund-Banihal along the Srinagar-Jammu National Highway to reduce travel distance and make it all season motorable road.
However, the 10.5 km Chenani-Nashri tunnel was thrown open by the end of 2018 but the 8.5 km Qazigund-Banihal is yet to made operational.
The tunnel with two parallel tubes is being constructed by Indian infrastructure major Navayuga Engineering Co (NEC) at a cost of around Rs 2000 crore.
An official said that Qazigund-Banihal tunnel would reduce the distance between two sides by over 16 kilometers. He said that it is a double tube tunnel and each tube will be seven meters (23 ft) wide and will bypass the spots where there remains obstruction in vehicular movement on highway during winters like Jawahar Tunnel and Shaitan Nallah.
He added that this project has been completed on Austrian Tunneling Method and over one hundred jet fans, over 200 CCTV cameras and fire-fighting systems are being established in both tubes of the tunnel.
Officials said that Qazigund-Banihal road tunnel is an 8.5 km long at an elevation of 1,790 m (5,870 ft) in the Pir Panjal range in the J&K.
"It is a double tube tunnel consisting of two parallel tunnels – one for each direction of travel and two tunnels are interconnected by a passage every 500 m (1,600 ft) for maintenance and emergency evacuation," they said, adding that the tunnel will have forced ventilation for extracting smoke and stale air and infusing fresh air. "It will have state of the art monitoring and control systems for security. Tunnel has toll plazas on both ends of the terminals which are also completed," they said.