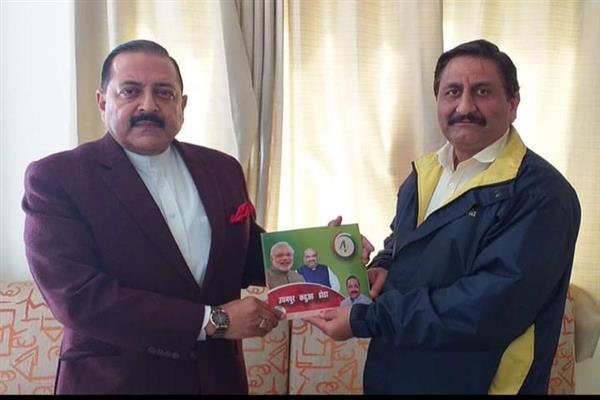 Jammu June 15: Senior BJP member Ashwani Kumar Chrungoo has demanded reservation of seats in UT assembly for Kashmiri Pandits while presenting a memorandum before central Govt. 
Kumar, who is also a Kashmiri pandit and, Incharge, Deptt of political affairs and Feedback, J&K-BJP submitted a memorandum to Dr. Jitendra Singh, MoS in PMO and sounght amendment in the Jammu & Kashmir Reorganisation Act of 2019. The memorandum says as follows:
"Your kind attention is invited to my earlier communication with you in connection with the Delimitation process in consonance with our submission of Memorandun to the Delimitation Commission.
I would like to bring the following to your kind notice:
The Delimitation Commission, after hearing our point of view in April 2021, opined that 'there is a substance in what we said in our presentation'. We are supposoed to make one more presentation before it once the Covid19 lockdown is over.
In this context, I would like to bring to your notice that the issue pertaining to the reservation and/or nomination in the UT Assembly for the Indegenous people of Kashmir, the Kashmiri Pandts, need to be looked in the perspective of a constitutional wayout. In case of reservation for "Sangha-Lama" in the Sikkim Assembly and the nomination of 3 MLAs in the Puchucherry Assembly, the Supreme Court of India, Madras High Court and other judicial institutions have already upheld this arrangement and order.
There is an imperative need to bring an amendment in the J&K Reorganisation Act 2019 enabling accomodation to the displaced Kashmiri Pandit community vis a vis their nomination or reservation in the Assembly and the Parliament. We have made a strong case for 5 seats in the UT Assembly for the minorities of Kashmir valley. The Delimitation Commission has great empathy for us but would like to accomodate our proposal consequent upon an amendment in the above said Act.
In the context of what has been said, I make an earnest request to grant us an opportunity to have a meeting with the Home Ministry on the issue at the behest of the PMO. We would also suggest the 'Amendment' in the Act necessitating accommodation of the original inhabitants of Jammu and Kashmir in the all important political spectrum as soon as possible".