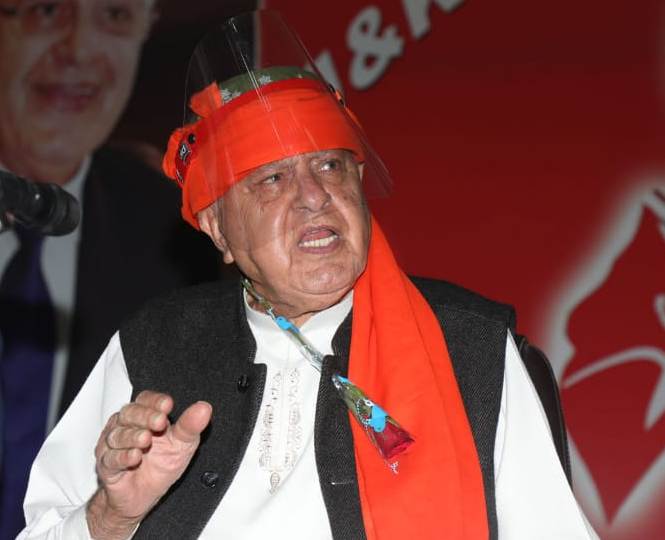 Srinagar, June 9: Clarifying that they have not shut their doors for New Delhi, Peoples Alliance for Gupkar Declaration (PAGD) President Dr Farooq Abdullah today said that they will take a stand whenever New Delhi will call them (for a dialogue).
After a long time PAGD leaders met at the residence of former Jammu and Kashmir's Chief Minister Mehbooba Mufti at Gupkar Srinagar.
Besides Farooq Abdullah, the meeting was attended by Mehbooba Mufti, Dr Mehboob Beigh, Javaid Ahmed Mir, Muzaffar Shah, Muhammad Yousuf Tarigami and Hasnain Masoodi.
Shortly after he conclusion of the meeting media was informed that Muhamamd Yousuf Tarigami has been appointed as the new spokesperson of PAGD.
Pertinently, Peoples Conference Chairman Sajad Gani Lone who quit the amalgam was the first spokesperson of the PAGD.
While responding to volley of questions, Farooq Abdulla said that they are meeting after a long time as the Covid-19 pandemic has engulfed the whole world. "Its not like we didn't meet intentionally. As you know the situation arising out of Covid-19, people are marinating distance to combat this dangerous virus," he said.
When asked about the rumours about the division of Jammu and Kashmir, Farooq Abdullah said: "We don't know anything. What they (New Delhi) have to do will do. We are holding on to the blessings of Allah."
Farooq Abdullah while condemning the random arrests of youth said there is enormous police pressure.
"Pressure of police is huge. People are being arrested. Young boys are being picked up. Look at the place which is at stones throw from my residence. Police frequently block the road and they are clueless when asked why they are doing so, harassing people," Abdullah said adding that he will appeal to LG to stop this harassment.
"People will go against you to such an extent that controlling them will become difficult," he said.
Dr Farooq Abdullah said he won't resign from the Parliament even if Government of India takes any anti-people decision. "We will fight for the rights of people inside the Parliament," he said giving an example of his late father saying when he was in Saudi Arabia and
Government of India issued arrest warrant against him, the then Saudi king Shah Faisal offered him Saudi citizenship but his father declined saying he want to put out the fire while staying in the fire. "Similarly we also want to put out the fire while staying in the fire," he said.
On this occasion, the newly appointed spokesperson, Muhamamd Yousuf Tarigami said: "never ever misunderstand us. We must convey to the people of Jammu and Kashmir and Ladakh that we shall be always on the side of people and will fight for their rights."
Pertinently, the PAGD was formed with the pledge of perseverance and steadfastness towards restoration of the special status of Jammu and Kashmir which was revoked by the by the Centre in August 2019. knt