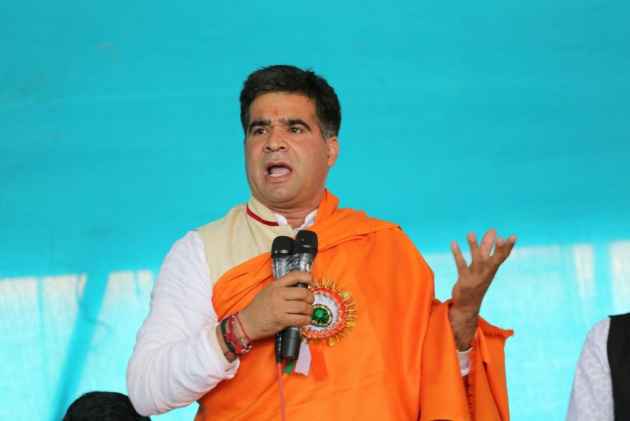 Jammu, Jun 07: Amid high speculation that the Delhi was "mulling another big move on J&K that includes further bifurcation of the UT, the Bharatiya Janata Party's (BJP) core group on Jammu and Kashmir met in Jammu on Monday and discussed the present security scenario, current political situation and management of COVID pandemic,
Sources in the BJP said hat the party leaders discussed security situation and 'targeted' killings of BJP leaders in the valley.
The thread bear discussion was held on killing of party leader Rakesh Pandita, who was killed Pulwama's Tral recently.
"Party leaders also discussed preparedness for political activity in case delimitation commission announces demarcation of new Assembly constituencies in J&K," the sources said.
Sources privy to the meeting said that some senior BJP leaders were unsure about the central government's stance, rumours and social media debate over another possible move on J&K in the wake of Union Home Minister Amit Shah's meeting in New Delhi in which J&K LG Manoj Sinha, J&K DGP Dilbagh Singh and other officials participated.
Meanwhile, BJP state president Ravinder Raina told media men that party's core group discussed the current political and security situation.
"Party meeting discussed in detail the prevailing security, political and pandemic situation besides the recent killing of party leader Rakesh Pandita and the security concerns of sarpanches, panchs, Block Development Council and District Development Council members," Raina said.
"The strategy should be chalked out keeping in mind the prevailing difficult phase of the Corona virus. We have talked to the Lt Governor (Manoj Sinha) on the issue in the past and will meet him again on the matter."
"All the discussed issues will be brought to the notice of the Lt Governor in coming days. Our effort is to end militancy and separatism. The repeated killing of innocents cannot be tolerated," he said.
Raina said he had raised these issues of killing of BJP leaders with Union Home Minister Amit Shah in the past and will continue to raise these issues with him as well as the Lt Governor so that culprits are booked
Asked about additional forces being deployed in the valley, the BJP leader said "deployment of forces is a national security matter and the discussion over it should be avoided."
However, he said there is 'operation all out' going on against militants and deployment is made where they have hideouts to flush them out.
On BJP's stand over Assembly elections, Raina said the party is fully prepared for the polls whenever the Election Commission takes a decision.
"The delimitation commission has been constituted for J&K and due to the Corona virus outbreak it was not able to visit here. The commission is expected to visit J&K soon to define the territories of the assembly and parliamentary seats. After that the election commission will take a decision about the assembly elections and as a political party, we will welcome the decision," he said.
About the ongoing protests against opening of wine shops in residential localities in different parts of Jammu after the implementation of new excise policy, he said "these shops will be closed". kno