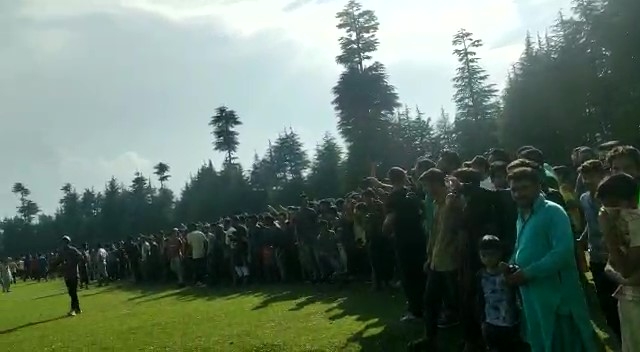 Pulwama, Jun 7: Thousands of people, potentially a super-spreader gathering, were seen violating the COVID-19 related guidelines openly during a Twenty-20 Cricket match in south Kashmir's Pulwama district on Sunday.
The huge crowd of people flocked to Musarmarg area in C.B. Nath Argicheck, 14 km from district headquarters, to witness a cricket match and flouted all guidelines concerning the pandemic. People were without face masks and social distancing also went for a toss.
The videos of the cricket tournament have been going viral on social media while the brazen violations have been ignored by the district administration.
With authorities imposing strict restrictions in main town Pulwama while ignoring all other huge crowds, potentially super-spreaders, the lockdown seems only a cosmetic step.
Shopkeepers, drivers and other such people whose business has been badly affected by the restrictions induced by COVID-19 are already complaining about the 'unlock' roster made public by DM Pulwama on May 30.
One of the shopkeepers, Adil Ahmad, running a photostat shop said that he was clueless whether to open his shop or not. "I don't know which category I am falling and when I am allowed to open my shop. Even I got the roster but I can't figure it out," he said.
"This is not a roster for opening of shops but closing of businesses altogether," another irked shopkeeper, Nisar Ahmad said while reacting to the news of imposition of strict restrictions on Friday.
Given the fact that the tournament has been going on from the last month or so, it is really ironical to see no action from the authorities.
Earlier, such a violation was brought into the notice of Naib Tehsildar Pulwama, Muhammad Ramzan Magray on May 8 when the matches were played in Lajoora area of Pulwama and he had assured action. "They will be penalised as per the government's COVID-19 guidelines," he had said.
"Are cricketers and spectator's immune to COVID-19 in Pulwama? Authorities are answerable to the people who are incurring losses on a daily basis due to the lockdown while those hankering after 'entertainment' in this ongoing pandemic are given uncontrolled freedom to participate in potential super-spreader events," questioned a trader.
Efforts to contact District Magistrate Pulwama, Baseer-ul-Haq Choudhary for response didn't materialize. knt