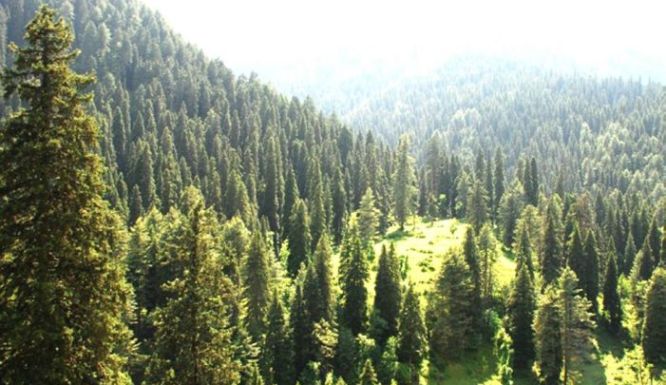 Srinagar, Jun 05: Maintaining that the appropriate steps are being taken for the restoration of the ecosystem, the authorities in J&K Saturday said that UT is among the top performers in the last two years while many other initiatives were undertaken to restore the glory and a people-friendly environment.
Notably, World Environment Day is celebrated annually on 5 June across the globe including the union territory of Jammu and Kashmir.
Talking about the significance of the day and efforts a senior Forest Department official said that Jammu and Kashmir is one of the largest improving places which are doing well on all parameters related to the forest and has managed to maintain its record including a proper standard.
He said that in terms of growing stock/ biomass, Jammu and Kashmir stand at the first position in India.
"Herbaceous biodiversity in places like Gurez and Lolab valley in Kashmir is the highest and one of the best," a senior official said.
The official said that the forests of Jammu and Kashmir are the most diverse having 42 different types of forests and the department has done well in increasing the green cover and other characteristics of the forests.
Official data reveals that Jammu and Kashmir with an increase of 348 sq kms of forest cover have figured among the top five states that have registered the highest increase in forest cover during the last two years.
It states that the forests of J&K has also recorded the highest growing stock of wood per unit area, which is 144.16 cubic meter per hectare. "The total carbon stock of forests in UTs including Trees outside Forests' is 390.20 million tonnes (1430.73 million tones of Co2 equivalent), which is 5.48 per cent of total forest carbon of the country," the document reveals.
The documents said that the J&K has also recorded the highest diversity of herbs in the country.
"The forest and tree cover of J&K is around 55 per cent which is substantially higher than the national average of 24.56 per cent," it reads. "However, the National Forest Policy envisages for the mountainous states to have two-third of its geographical area under forest and tree cover to ensure the stability of fragile ecosystems."
Meanwhile, a senior official of the Jammu and Kashmir Pollution Control Board (JKPCB) said that the world environment day is celebrated with an aim to restore the ecosystem.
"Even this Covid is an environmental problem wherein nature itself has taken things in hand which is a lesson for all of us what we have done with the environment," he said. "Had there been consciousness and limits including the carbon footprint things would improve gradually."
"People must play an active part and ensure the pollution graph is reduced for the restoration of the ecosystem," an official said.