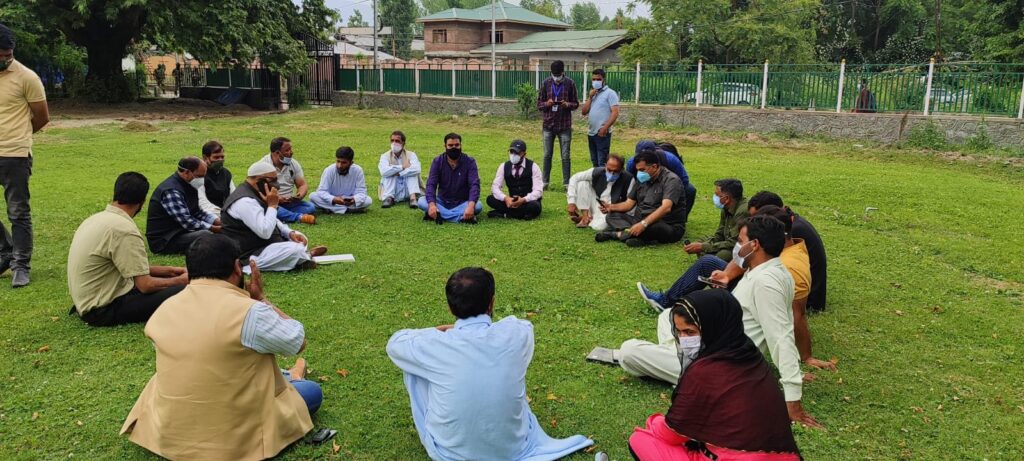 Bandipora, May 31: As a mark of protest, scores of public representatives boycotted a covid-review meet called on the visit of Advisor to Governor, Baseer Ahmad Khan, here in the district on Monday.
The situation unfolded soon after the advisor reached the venue at Sumbal. The public representatives across the district numbering around forty included DDC members, Sarpanchs and Panchs, who had been invited to attend the meeting.
However instead of attending the scheduled meeting, the PRIs assembled in the premises, as a mark of protest alleging the SDM Sumbal of 'repetitive misbehavior and disregard' towards them.
A DDC member alleged that the behavior of SDM Sumbal has been very frustrating towards them. "He has been behaving very rudely towards all of us", he said adding that "There was only a 'single' DDC member (Tahir-ul-Qadri) from Sonawari in the meeting, and 'rest of us' are on boycott."
"We won't participate in any meeting until an action is taken against the SDM (Sumbal)", he said.
A female DDC member, part of the boycotting PRIs, in the meantime seconding her colleague said that 'they all are on boycott'. "He (SDM Sumbal) has misbehaved with me and other Sarpanchs and Panchs," she alleged adding "If we are the representatives of our areas, why are then we not being respected."
She said two persons as conveyed were to be allowed with each of the DDC member to attend the meeting. However none has been actually permitted to which they protested and boycotted the meet.
SDM Sumbal Dr Bashir Ahmad Khan in the meantime said that the PRIs objected to security check. "They objected the mandatory security check at the entrance and then boycotted the meet", the official said. gns