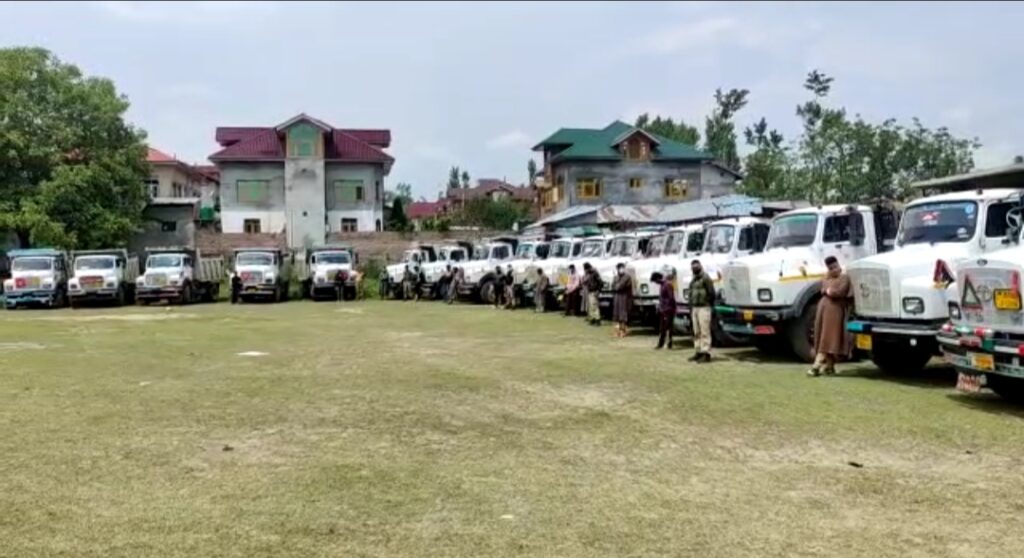 BUDGAM: Taking stringent action against those violating the Corona Curfew and indulging in illegal excavation and transportation of clay, Budgam Police registered FIR number 63/2021 at Police station Chadoora under relevant sections of law.
In Kuzwerah Chadoora, today during wee hours police team headed by SHO Chadoora Insp Sajad Ahmad arrested  15 persons and seized 22 tippers/ dumpers bearing following registration numbers:
JKO4F 1352, JK04E 8641, JK13E 3366, JK03G 9003, JK04E 8676, JK04E 9513, JK13F 4522, JK04F 1897, JK03G 9719, JK04F 1704, JK01AK 4814, JK04F 3023, JK04E 7990, JK13F 2026, JK13E 3334, JK05B 1738, CH'S 860, JK03 8448, JK13C 0765, JK01R 6919, JK05H 1882, JK01AG 0868.
The arrested persons have been identified as:
Naseer Ahmad Sheikh S/O Abdul Ahad SheikhR /O Wanpora, Abdul Majeed S/O Assadullah R/O Verinag, Mohd Rafiq Dar S/O Ali Mohd Dar R/O SK Bagh, Imtiyaz Ahmad Mir S/O Abdul Salam Mir R/O Wanpora, Imtiyaz Ahmad Bhat S/O Assadullah Bhat R/O Pohru Brangi, Amir Bashir S/O Bashir Ahmad Khan, R/O Chadoora, Hilal Nabi S/O Ghulam Nabi R/O Wanpora, Firdous Ahmad Dar S/O Mohd Akbar Dar R/O Tangan Nowgam, Aijaz Ahmad Bhat S/O Bashir Ahmad Bhat R/O Wanpora, Irfan Ahmad Khan S/O Abdul Rashid Khan R/O Wanpora, Bashir Ahmad Shalla S/O Abdul Aziz Shalla R/O Shahzadpora Dangerpora, Mukhtar Ahmad Ganie S/O Ghulam Hassan Ganie R/O Sathsoo, Showkat Sheikh S/O Ghulam Mohd Sheikh R/O Verinagh, Abdul Qayoom Bhat S/O Mohd Abdullah R/O Khag, Manzoor Ahmad Sheikh S/O Ghulam Mohiudin R/O Larnoo Kokernagh
Budgam Police requests people to adhere to govt guidelines/orders to contain spread of Covid-19 and not to indulge any illegal activity in the garb of Corona Curfew.