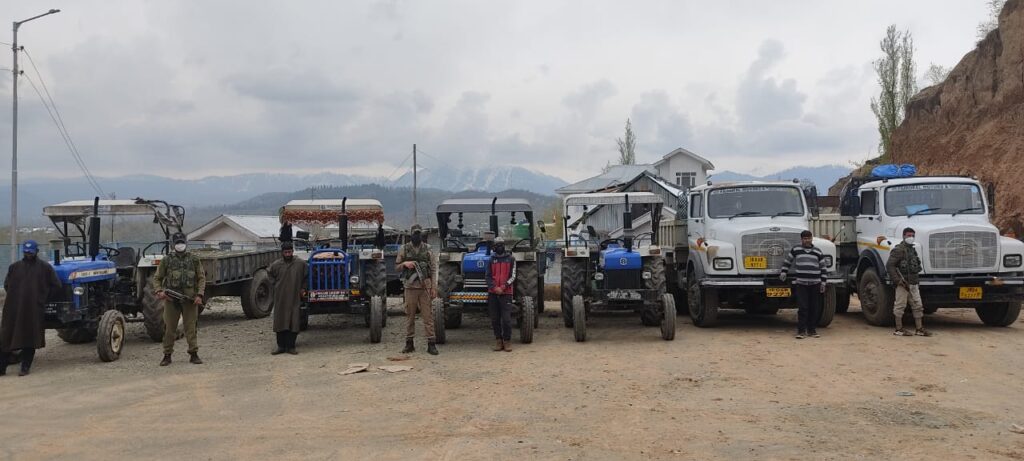 Budgam, Apr 20: Police on Tuesday claimed to have arrested 05 persons and seized 2 tippers and 4 tractors found indulging in illegal extraction and transportation of sand & Bajri in Budgam district. 
Acting upon information regarding illegal extraction of sand and bajri at Nallah-Shaliganga Dreygam. Police party of Police Station Khanshab seized 2 tippers and 4 tractors loaded with illegally extracted Bajri/sand, police spokesman said.
The arrested persons have been identified as :
Farooq Ahmed Mir son of Abdul Rehman Mir resident of Kanirah Budgam, Noor Mohammed Bhat son of Maqbool Bhat resident of Arigam Budgam, Showkat Ahmed Malla son of Ghulam Ahmed Malla resident of Dreygam,Arampora, Mohammed Ashiq Ganie son of Ghulam Hassan Ganie resident of Kalichipora Budgam and Ghulam Hassan Mir son of Addul Gani Mir resident of Bugroo Budgam.
Case FIR number 55/2021 under relevant sections of law stands registered in Police Station Khansahib and investigation initiated.